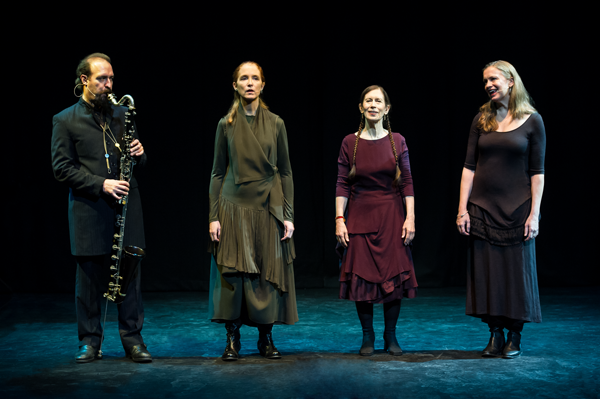 Meredith Monk, who was recently awarded Musical America's Composer of the Year, is having one of the busiest springs in her 45-year career.
A standout in the whirlwind of events is the upcoming world premiere of "Realm Variations," which was commissioned by the San Francisco Symphony's 2012 American Mavericks Festival.  The work will debut in San Francisco's Davies Symphony Hall on March 18, followed by performances at the University of Michigan's Rackham Auditorium on March 25, and then at Carnegie Hall's Zankel Hall on March 30.
Marking one of her rare performances of other artist's works, Monk will join Joan La Barbara, Jessye Norman and members of the San Francisco Symphony for performances of selections from John Cage's witty and evocative "Song Books." The concerts are scheduled for San Francisco's Symphony Hall (March 10 and 14); Hill Auditorium at the University of Michigan (March 23) and Carnegie Hall on March 27.
On February 15, Monk, renowned for her groundbreaking multi-discipline productions, will speak about her history with BAM's Next Wave Festival as part of its Iconic Artist Talks in celebration of its 150th anniversary. Monk's relationship with BAM began in 1976 with her now-classic "Quarry," which was performed in the Lepercq Space, now the BAMcafé. Her most recent work, "Songs of Ascension" received its New York premiere at BAM's Harvey Theater in 2009. "PAJ: Journal of
Performance and Art" publisher/editor Bonnie Marranca will moderate the talk at 7pm.
February 19 marks the release of "MONK MIX: Remixes and Interpretations of Music by Meredith Monk." Among the artists appearing on the 2-disk CD set are Björk, DJ Spooky, Ryuichi Sakamoto, Lukas Ligeti, Lee Ranaldo, Nico Muhly, Caetano Veloso, Don Byron and Vijay Iyer. A release party will be held at Joe's Pub on February 19 at 9:30pm with live performances by DJ Spooky, Don Byron and his clarinet quartet, Theo Bleckmann, John Hollenbeck, DJ Rekha, among others. WQXR radio's Terrance McKnight will serve as the evening's host.
Celebrated for using the voice as an instrument, Monk says that it was her 2003 commission from the New World Symphony that inspired her to also explore the possibilities of instruments as voices. "Realm Variations" embodies both pioneering efforts.
Divided into three distinct sections or "realms" that interweave as the work progresses, "Realm Variations" initially highlights the high treble sound of the piccolo (Monk's first use of the instrument) balanced by the contrabass clarinet and bassoon. The viola, French horn, harp and violin, as well as six members of Meredith Monk & Vocal Ensemble comprise the rest of the chamber ensemble.
In May, Monk heads to Europe with her Vocal Ensemble, for performances in the Lublin Philharmonic/KODY Festival in Lublin, Poland on May 14; at Le Collège des Bernardins in Paris on May 16; at Musée du Louvre in Paris on May 18, and Centre Culturel André Malraux in Vandoeuvre-les-Nancy on May 20.