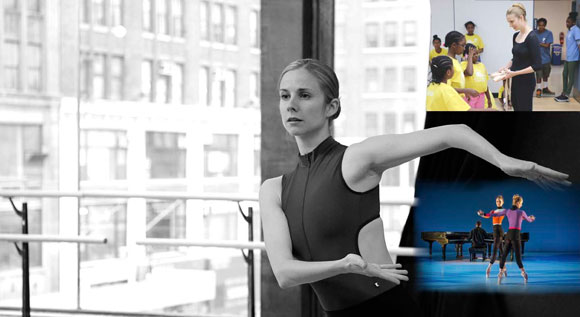 A slew of new challenges–new repertory, new dancers, new venues, and new music–are slated for BalletNext's 2014/15 season. Most notable is the choreographic debut of the company's founder and artistic director, former American Ballet Theatre principal Michele Wiles, who will present two ballets during the troupe's return to New York Live Arts, February 10 – 14.
Wiles's first ballet (title to come), a choreographic collaboration with celebrated Flex dancer Jay Donn and electro-acoustic cellist/composer Chris Lancaster, is among the three world premieres on the boards for the company's 2015 NYLA season. In addition to a second ballet by Wiles, "Ushuaia," set to music by Biber, a third new work (title to come) by Peter Quanz to music by Corelli is scheduled. Given the program's musical theme of Baroque music–and riffs on it–the NYLA program has been titled "Baroque'd." As with all BalletNext programs, the music will be played live.
One of Wiles's first orders of business, prior to the NYLA shows, is directing a performance of children at the Frederick P. Rose Hall at Jazz at Lincoln Center on October 27 as part of a fund-raiser for the Greater New York City YMCA. The children are students at the Bedford Stuyvesant Y's after school program at P.S. 54, where Wiles continues to teach ballet. Now in its fourth year, a joint benefit between the two organizations takes place at BAM Fisher (Fishman Space) on March 26. The monies earned will again benefit both the Y's and BalletNext's youth arts education programs.
On November 15, BalletNext joins Kaatsbaan's gala celebration with a performance of Mauro Bigonzetti's fast-paced duet, "La Follia" to music by Vivaldi. The performance is a thank you to the bucolic dance center for hosting the company for four weeks of residency, from August to October.
Wiles takes part in the annual nationwide Nutcracker celebration by returning to one of her celebrated roles as Sugar Plum Fairy. She will perform it with the Santa Barbara Festival Ballet, December 13 & 14 and December 19 – 21 with the Wilmington Ballet, where she will be partnered by New York City Ballet soloist Zachary Catazaro. The proceeds will be directed back to support future projects by BalletNext.
On February 21, BalletNext makes its Baltimore, MD debut at the Patricia and Arthur Modell Performing Arts Center at the Lyric, where it will perform the same program as at NYLA. For Wiles, a native Baltimorean, and the city where she first began her ballet training, the February performance takes on special significance.
On March 13 the Company participates in the Ballet in Cleveland Gala, a first step to a series of performances, which are in the works for this summer.