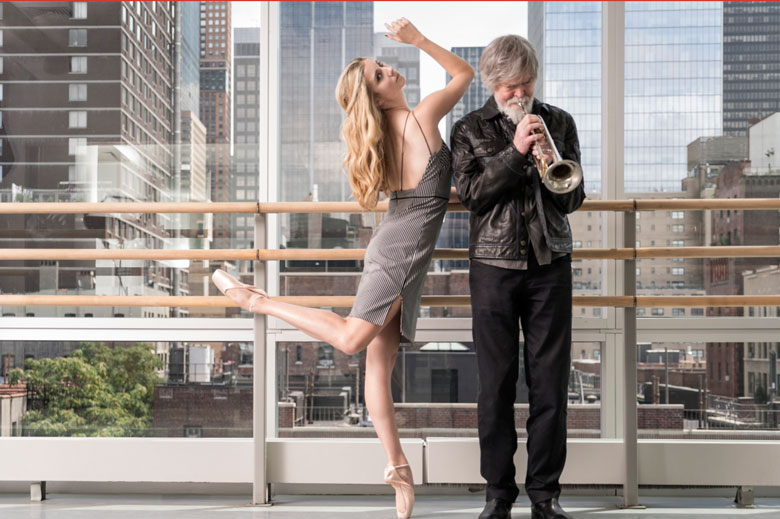 ALL MUSIC PLAYED LIVE INCLUDING PERFORMANCES BY TOM HARELL AND HIS JAZZ QUINTET
When Michele Wiles left American Ballet Theatre to begin her own ballet company, BalletNext, she had little inkling of what a rich storehouse of ideas and adventurous spirit she possessed. Take for example, the mid-section in the world premiere, "Apogee in 3," in which the former ABT principal dancer improvises to improvisation by master jazz trumpeter Tom Harrell. That's just one of the many major offbeat steps Wiles is taking in BalletNext's New York Live Arts season, October 27-November 7.
Marking the Varna Gold-winning ballerina's first foray into jazz and the Grammy Award-winning musician's first-ever work with dancers, "Apogee in 3" is a powerful, self-contained community of six women whose relationships to themselves and to each other change as the dance develops. Each of its dramatic three sections, danced to live music played by the Tom Harrell Quintet, evokes a mysterious communal bonding among the six dancers. Wiles's wildly emotional, improvised solo to Harrell's musical improvisation connects the first and last sections.
The season, which follows on the heels of last February's sold-out NYLA engagement, also features the world premiere of "Don't Blink," a duet between Wiles and Jay Donn, who collaborated with her last year on "Something Sampled." Notably different in form and content, "Don't Blink," the result of a year's work together, has deepened the exchange between the artists, who come from radically different artistic cultures; she, from the 450 year old world of classical ballet, which is all about repetition, and he, from the 10 year old art of flex dancing, which is all about improvisation and change. For Jay Donn, it was like learning German and for Wiles, like learning Chinese. They now communicate through DonnWiles speak. Mixed by Jay Donn, the music samples rock, R&B, dubstep and distorted pop culture references.
In addition to the world premieres, the season features the New York premiere of Brian Reeder's "Strange Flowers," a 2014 trio set to music by Jean-Philipe Rameau. The Baroque music will be played live by Anneke Schaul-Yoder (cello), Elliot Figg (keyboard), Francis Liu (violin) and Chloe Fedor (violin). "Surmisable Units," also by Reeder, uses a score by Steve Reich, performed by one pianist, Elliot Figg, navigating between two baby grand pianos on stage and five dancers. The return of Michele Wiles's "Ushuaia," a premiere from last season, set to music by Heinrich Biber, is also on the boards.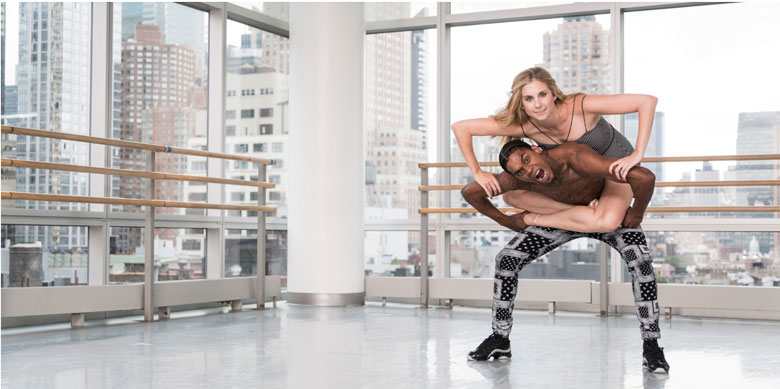 ABOUT THE ARTISTS
Michele Wiles
Michele Wiles founded BalletNext in 2011 in an effort to pair classically trained dancers and live musicians in a collaborative setting that encourages artistic risk and experimentation.
Born in Baltimore, Maryland, at age 10 she moved to Washington D.C. to train at the Kirov Academy on full scholarship. She was a Gold Medal winner at the 18th International Ballet Competition in Varna, Bulgaria; a Bronze Medal winner in Nagoya, Japan and a finalist at the Paris International Dance Competition. She was a Princess Grace Foundation – U.S.A. Dance Fellowship recipient for 1999–2000 and won the Erik Bruhn Prize in 2002.
She joined American Ballet Theatre's Studio Company in 1997 and joined American Ballet Theatre in 1998, where she was promoted to soloist in 2000 and to principal in 2005. She left ABT in 2011 to found BalletNext, where she remains artistic director as well as a dancer and choreographer. "Ushuaia," to music by Heinrich Biber, which premiered in February 2015, marked her formal choreographic debut.
Jay Donn
Jay Donn, a highly energetic, daredevil Brooklyn-born dancer, is a founder of the Brooklyn dance style known as Flexing and creator of the sub-style, "Punchlines."
At age 15, he started his dance career on BCAT's TV show, "Flex N Brooklyn" and saw a boost in his career when his group, Ringmasters, appeared on the third season of MTV's "America's Best Dance Crew." He has been seen in many music videos alongside Elephant Man, Nicki Minaj, LMFAO's Sky Blu, among others, and been in the feature-films "Step Up 3D" and "Flex is Kings." He toured worldwide with Sky Blue's Big Bad University and Company XIV's ballet, "Pinocchio." He regularly performs with electro-acoustic cellist composer, Chris Lancaster.
Brian Reeder
Brian Reeder began his training at Central Pennsylvania Youth Ballet in the state of his birth. His professional career as a dancer was largely spent with New York City Ballet, American Ballet Theatre and William Forsythe's Ballet Frankfurt. As a choreographer, his work has been viewed at American Ballet Theatre, ABT Studio Co., Washington Ballet, Sacramento Ballet, and other regional dance companies. He has been the recipient of several grants and fellowships, as well as being produced by the Guggenheim Museum's Works & Process in NYC. Reeder has been a guest teacher at universities, colleges and conservatories such as Juilliard, Goucher, Emory and numerous national dance academies. Reeder was named rehearsal director for the Cedar Lake Contemporary Ballet in summer 2014. He also served as the coordinating director for Dance Bermuda, adjunct guest director for Vassar Repertory Dance Theatre, and resident choreographer for both Manhattan Youth Ballet and BalletNext.
Tom Harrell
Praised by Newsweek for his pure melodic genius, Tom Harrell is widely recognized as one of the most creative and dynamic jazz instrumentalists and composers of our time. While Harrell is a master of the jazz idiom, he constantly seeks new challenges and influences. Even with a discography of over 260 recordings and a career that spans more than four decades, Harrell has managed to stay fresh and current as he continues to actively record and tour around the world. He is a frequent winner in Down Beat and Jazz Times magazines' Critics and Readers Polls and a Grammy nominee.
His warm, burnished sound on the trumpet and the flugelhorn, and the unparalleled harmonic and rhythmic sophistication in his playing and writing, have earned Harrell his place as a jazz icon to aspiring musicians and devoted fans alike. His music is at once intelligent, soulful, fresh and accessible. No matter the size of the group he works with, the trumpeter-composer deftly weaves complex harmonies together with daring rhythmic concepts and unforgettable melodies while utilizing the available colors to full effect.
His forthcoming album, First Impressions (September 18, 2015 release), is a chamber ensemble recording of Harrell's own arrangements of (mostly) chansons by Debussy and Ravel. The ensemble was featured on PBS' Soundtracks and toured in the US and Poland. Harrell will reprise the group for a week at the Village Vanguard starting October 6.
A graduate of Stanford University with a degree in music composition, Harrell is a prolific composer and arranger. Carlos Santana, Cold Blood, Azteca, Vince Guaraldi, Hank Jones, Kenny Barron, the Vanguard Jazz Orchestra, Danish Radio Big Band, WDR Big Band, Brussels Jazz Orchestra, Metropole Orchestra and Arturo O'Farrill & the Afro-Latin Jazz Orchestra are among the many who have recorded or performed his work. Harrell's composition and arrangement, "Humility," was recorded for the latter's 2008 release, which just won a Grammy for the Best Latin Jazz Album.
Some of Harrell's notable RCA/BMG recordings include Wise Children, a project in which he combines woodwinds, brass, horns, strings, guitars, percussion and the vocals of Cassandra Wilson, Dianne Reeves, Jane Monheit and Claudia Acuna; Paradise and The Art of Rhythm both of which feature chamber groups with strings; and his Grammy-nominated big band album, Time's Mirror.
Harrell has worked with important figures in jazz history including Stan Kenton, Woody Herman, Dizzie Gillespie, Horace Silver, Art Farmer, Phil Woods, Lee Konitz, Sam Jones (with whom he co-led a big band in the 70s), Jim Hall, Charlie Haden, and Joe Lovano. Harrell was featured on Grammy-winning albums by Gerry Mulligan (Walk on the Water) and Bill Evans (We Will Meet Again).
In 2014, he toured internationally with his sextet, Colors of a Dream, featuring Esperanza Spalding on bass and vocals. The group's eponymous album was released in 2013 by HighNote Records.
www.tomharrell.com
www.facebook.com/tomharrellmusic
www.balletnext.com
www.facebook.com/balletnext5
www.instagram.com/balletnext
TICKET INFORMATION
Tickets begin at $15 and are available at BalletNext.com or by calling the New York Live Arts box office at 212-924-0077. New York Live Arts is located at 219 West 19th Street.
CREDITS
BalletNext would like to acknowledge the following organizations for their partnership and support in the development of this program: Capezio, the official pointe shoe sponsor of the company, the Kaatsbaan International Dance Center, Steinway & Sons, and Volunteer Lawyers for the Arts.
BalletNext's engagement at New York Live Arts is made possible, in part, by funds from The Howard Gilman Foundation and The New York City Department of Cultural Affairs.