Trisha Brown is well known for creating dances in unexpected places and surprising spaces such as SoHo rooftops (1973), on museum walls, along the edges of Manhattan buildings, atop floating rafts, and up and down ladders.  In 1979 she began to work on large-scale theatrical productions, collaborating with major visual artists such as Robert Rauschenberg, Donald Judd and Nancy Graves.  In 1994, she opened yet another new artistic door for herself when she premiered "M.O.," her first work to classical music.  The glorious, fifty-five minute dance is set to Bach's 1740 masterpiece, "Musical Offering."  Then in 1996 she presented "Twelve Ton Rose," set to music by Anton Webern.  And now, this fearless adventurer has traveled back three centuries for inspiration.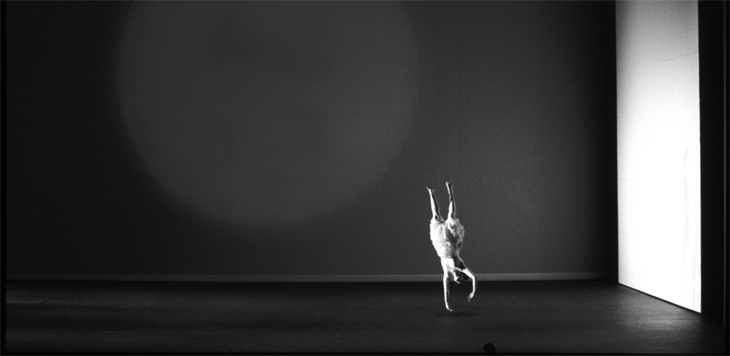 On June 10 Trisha Brown will make her American debut as a director of opera with a radical new production of Monteverdi's "L'Orfeo."  The rarely performed early 17th century masterpiece received its world premiere at La Monnaie in Brussels last May and was subsequently seen in major European Festivals.  René Jacobs is the production's music director and Roland Aeschlimann, the designer.
L'Orfeo" was first produced at the court of Mantua in 1607, where it had been commissioned by Francesco Gonzaga as entertainment during the carnival season.  Based on the Greek myth that tells of the death-defying power of love and art, the opera marked one of the first attempts at setting dialogue to music.
Using color and geometric form to indicate character, place and emotion, Brown's production offers a contemporary exploration of the ancient tale and a radical new look at the opera.  Brown's new approach to the end of the opera is typical of her innovative spirit.  Instead of selecting one of the two endings created by Monteverdi, she decided to combine elements of both, creating an unexpectedly new narrative.
Spare in its spatial design and formal in its movement, this radically new version of the opera suggests neither a specific time nor place.  Through her uncanny ability to abstract profound emotion and to use gesture symbolically, Brown affirms the contemporary, if not timeless relevance of the opera.  She uses distillation to go to the heart of the Monteverdi.
Faced with the dual challenge of creating movement and gesture that reinforce and amplify the emotional and moral power of the opera, yet do not interfere with the performers' ability to sing, Brown was forced to develop a new movement vocabulary.  The entire cast of 60 singers received special dance training for the production.  Her own company of 10 dancers, in addition to performing in the pure dance sections of the production, are used to add emotional resonance and  to complete her vision of the stage design.
Baritones Simon Keenlyside and Carlo Allemano will alternate the role of Euridice's devoted husband, Orfeo; the role of Euridice will be performed by soprano Patricia Biccire.
After its world premiere at La Monnaie in Brussels last May, the opera was presented at the Barbican Centre in London, June 3-6, 1998; The Festival d'Art Lyrique d'Aix-en-Provence in France, July 14, 15, 18, and 19, 1998; and the Théâtre des Champs Elysées in Paris, April 14-17, 1999.
The powerful influence of Monteverdi on Brown is seen in her new dramatic, but abstract, thirty minute dance, "Canto/Pianto," which is also set to sections of "L'Orfeo."  The title is a rhyme scheme that runs repeatedly through the Monteverdi opera translating to singing/weeping, recurring themes in the opera itself.  A fifteen minute section of the dance was first presented at the American Dance Festival in June 1997.
Brown's first and only previous experience with opera was as choreographer of Lina Wertmüller's production of "Carmen" in 1985.  Her irrepressible sense of adventure, combined with the spontaneity of her imagination and the rigor of her structures, have won great recognition from audiences and critics throughout the world.  She was the first female choreographer to be awarded a MacArthur Fellowship (1991).  In 1988, she was named Chevalier dans l'Ordre des Arts et des Lettres by the French Government.  In 1994, she was named recipient of the prestigious Samuel H. Scripps/ American Dance Festival Award, Additionally, she received the 1987 Dance Magazine Award and the Laurence Olivier Award from London's West End.  President Bill Clinton appointed Brown to the National Council on the Arts in May, 1994.  Most recently she received the Prix de la Danse de la Société des Auteurs et Compositeurs Dramatiques.