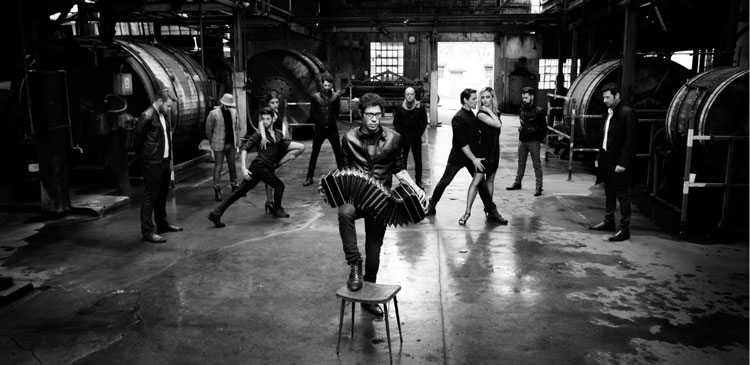 ---
Ferocious, passionate and resolutely defiant, Rascasuelos will command Carnegie Hall's Perelman Stage when the Buenos Aires-based band of 11 visionary tango dancers and musicians makes its New York debut in the Stern Auditorium, November 2 at 8pm. Entitled "Tango Vivos," and presented by the trans–national management team Triplespeak in association with Lacoren Productions, the evening will celebrate the tango as a regenerating art form, welcoming new interpretations and influences.
Existing in various iterations since 2000 and formally established in 2008, this group of seven classically and rock trained musicians and four ballet, folk and contemporary dancers joined forces to explore new possibilities of the erotically and politically-charged art form. Beyond creating work alive with sheer beauty, Rascasuelos calls upon tango's proletarian history as a force to inspire social and political change.
The Carnegie program includes two sets from Rascalsuelos's 2016 studio CD, "Tango Vivos," as well as new music from its upcoming vinyl release. The band is comprised of Patricio "Tripa" Bonfiglio (composer and bandoneon); Fulvio Giraudo (piano), Cristian Basto (double bass); Nicholás Tabbush (violin); Limón Garcia (voice); Gabriel Wolff (viola); Mauro Sarachian (cello). The dancing, which comprises almost half the show, is choreographed by Manuco Firmani and Micaela Spina, who also perform along with Soledad Buss and Cesar Peral. Marcello Lupis is the Rascasuelos's multi-talented artistic director.
Adding to the Carnegie performance is riveting imagery created by Marcelo Lupis and visual storyteller Pix Talarico, nominee of two Latin Grammy Awards and recipient of five MTV Awards, as well as a series of international honors.
---
The band members's unique musical backgrounds–many perform in leading symphonic orchestras, starred in celebrated Argentinian rock bands and danced in leading ballet companies—is evidenced in its signature sound and look. Its pulsing fusion of rock, classical and tango speaks to the present political and economic spirit of Argentina, a country that suffers cyclical series of crisis, collapse and revolution every decade.
While taking inspiration from Astor Piazzolla's tradition-defying work, Rascasuelos uses its musicians' diverse musical backgrounds to give tango its 21st Century relevance, and a force to create a world anew, alive with the fiery spirit of determination and hope.
Emerging from the dark, smoky, lower-class bars of Buenos Aires's zonas rosas in the late 19th century and embedded with a revolutionary spirit, tango went through multiple transformations after it was introduced to the European public at the turn of the 20th century. Audiences in Paris, London, and Finland became passionate fans of the art form. That tango so instantly seized the hearts of Europeans, legitimized it in its own country of birth, where it was then appropriated by the Argentinian middle and upper classes. First denigrated as lower class, then celebrated for its smart sexiness before being driven underground as a political threat, it is again celebrated for its exuberant and intoxicating passion. Embodying its country's rich cultural, political and artistic history, tango is as complex and transformative as 20th century Argentina is itself.
Like American jazz, tango has remained open to great varieties of influences–musical, cultural, political, ethnic–which is what the restless creativity of the Rascasuelos musicians and dancers tap into and transform.
In addition to its regular shows in Buenos Aires, the group has performed in Holland, France, Wales and China. It most recently played at the 2016 La Festival Tango de la Ciudad de Buenos Aires, where it has been a special guest annually since 2010.
To tell its own tango story, the band began filming a pilot episode of a feature-length docudrama, "Tango Vivos" in New York City this past April. The upcoming film, which is being produced by Triplespeak in association with Mulata Films, draws parallels between the anti-establishment forces alive during the 1960's and 70's in New York, San Francisco, Paris, London and Prague and the revolutionary musical, art, dance and political spirit that has permeated Buenos Aires since 2011.
TICKETS
$35.00 and up. Senior and student discounts are available.
carnegiehall.org | CarnegieCharge 212-247-7800. The Carnegie Hall box office is located at 57th and Seventh in New York City.
---
ABOUT THE ARTISTS
Patricio 'Tripa' Bonfiglio – Composer, Musical Director & BandoneonPatricio 'Tripa' Bonfiglio is the founding member of the two most influential groups to have emerged from the new wave of Tango, Fernández Fierro and Astillero, has performed with Argentinian rock icons, Bersuit Vergarabat, Alejandro Balbis, and Ariel Prat, among numerous others. He is also the musical director of Rascasuleos' alter ego Rascacielos, and is the current bandoneonista with 'Arrabal' created by multi-award winners Gustavo Santaolalla (Academy Award, Best Original Score, 2005 & 2006) and Sergio Trujillo (Tony Award, Best Choreography, 2016). Tripa is credited with reimagining the possibilities of the bandoneon.
Limón García – Voice A child prodigy, García was discovered by two of tango's greatest historical figures, Ben Molar and Mercedes Sosa. A founding member of Via Varela, he was invited to join Argentinian rock icons Bersuit Vergarat at the height of their powers back in 1996. After leaving the group in 1999, he continued to perform on various studio albums recorded by the band, before becoming inspired by the fast-emerging new wave of tango. García returned to the genre with the album 'Mar Azul' by the internationally renowned Bajofondo. Earlier this year he was chosen to perform an exclusive tango show for The Rolling Stones' Mick Jagger, with whom concepts of rock and tango were exchanged.
Fulvio Giraudo – Piano A revered member of tango's new generation of multi-instrumentalists, Fulvio has performed professionally throughout Argentina and internationally for more than twenty years. Academically trained in piano and chamber music, Fulvio began his career in tango with Arturo Penon, and for a time was the bandoneonista with the famous orchestra of Osvaldo Pugliese. His musical credits include Sexteto Sur, El Desquite, and presently Sexteto Mayor. He has also provided the musical accompaniment for singers Ruben Juarez, Amelita Baltar, and Maria Gaña among many other Argentinian household names.
Cristian Basto – Double BassCristian has toured extensively throughout Europe, Asia, and Latin America with various tango companies directed by Mora Godoy and Miquel Ángel Zotto, and collaborated with Pablo Mainetti, Diego Schissi and Nicolás Guershberg. A uniquely versatile musician, Cristian has also performed with Argentine rock music legends Luis Alberto Spinetta, Dancing Mood and Fabulosos Cadillacs, while also a member of the Orquesta Académica de Teatro Colón (Colón Theatre Academic Orchestra, Buenos Aires), Orquesta de la Cámara del Congress de la Nación (Orchestra of the National Congress, Argentina), Orquesta Simfonica de Neuquen (The Symphonic Orchestra of Neuquen), and the Baroque musical ensembles, La Cetra, Ad Libitum, and Compania de los Luces.
Nicolás Tabbush – ViolinNicolás began studying violin with the maestro Bernardo Prusak continuing with Miguel Ángel Bertero and Szymsia Bajour. He became a member of the Orquesta Sinfónica Juvenil de Radio Nacional, before joining the Orquesta de Cámara Crescendo and Orquesta de Cámara del Congreso de la Nación (Argentina). Nicolás first toured Japan with Maestro Tanguero Mauricio Marcelli, before joining la Orquesta Estable del Taetro Argentino de La Plata, then Rodolfo Mederos Orquesta Típica, with whom he made several international tours including China, Chile, the Canary Islands, Norway, Costa Rica, Spain, and Colombia, among others, and performed at the International Festival of Tango, Lisbon, in 2012 and 2013. Nicolás is one of the five founding members of Rascasuelos and full-time member of the Orquesta Filarmónica de Buenos Aires (The Buenos Aires Philharmonic Orchestra).
---
Gabriel Wolff – Viola Gabriel was born in Germany into a family of Jewish musicians and theater actors. Growing up with klezmer and classical music, he began his training as a violinist at the age of 8. When his family immigrated to Israel, he went on to study classical music at the Jerusalem Academy for Music and Dance under the supervision of David Chen, and Arabic music under the supervision of Taisír Elias. During his academic career, he continued playing klezmer and Balkan music on stage. At the age of 16, after listening, by chance, to a recording of Recuerdo by Pugliese, he was determined to become a tango musician, studying tango viola and arrangement in Rotterdam under Gustavo Beytelman and Victor Villena, before relocating to the home of tango, Buenos Aires. In 2012 he received the highest possible scholarship award for composition from the Fonds Podiumkunsten, Amsterdam, in order to compose in Buenos Aires, where he has continued to live. During his career, Gabriel has shared the stage with musicians from diverse musical traditions, including Daniel Barenboim, Zubin Mehta, Avishai Cohen, Daniel Zamir, Jose Colangelo, Victor Lavallén, and many others. From 2006 to 2008, he taught improvisation, alongside Maxim Vengerov in Migdal, Israel. Gabriel is a regular guest on stages throughout the world, including at the Festival de Tango de la Ciudad de Buenos Aires and Berlin, Jerusalem, Rotterdam, and New York.
Mauro Sarachian – Cello A versatile musician, Mauro began studying cello at age thirteen with Maestro Andre Mouroux at the Conservatory J.J. Castro. When he received funding from the Carolina Foundation in Madrid, he moved to Europe to study under Maestro Pieter Thiemann at the Conservatory del Liceu in Barcelona, before receiving his Masters at the Royal Conservatory of Brussels under the supervision of Vivane Spanoghe. Curious and restless to explore and extend the possibilities of his preferred instrument, the cello, Mauro pursued various styles, forms of improvisation, and electric incarnations. He returned to Buenos Aires in 2014, where he re-established his career with various projects; as the principal cellist of the Philharmonic Orchestra of Rio Black, cellist with Rascasuelos, and permanent member the eclectic, experimental project 'La Grande'.
Micaela Spina – Choreographer & DancerMica graduated from el Teatro Colon ISA, Buenos Aires, in classical dance and ballet.Between 2005 and 2009, she was a principal dancer with the Mercosur Maximiliano Guerra dance troupe, and from 2008 -2013, Mica performed with the Mora Godoy Tango Company, touring China, Kazhajistan, Spain, Mexico, Uruguay, Colombia, Russia and Eastern Europe. In 2011 she starred in the premiere of the musical 'Chantecler Tango', which opened at the Chatelet in Paris, followed by two seasons at the Presidente Alvear Theatre in Buenos Aires. From 2012 to date, Mica has performed with the Dance Company of Ignacio Gonzalez Cano Tempotango, which included three seasons in Buenos Aires with 'Tacoteco'. Following her work with boulevard tango dancer, Cecilia Figaredo in 2013, Mica performed as Principal Protagonist and Ballerina with the musical 'Arrabal' by multi-award winners Gustavo Santaolalla and Sergio Trujillo from 2013-2016. Most recently Mica starred in the national tour of 'Let it Be' by Hernan Piquín.
Manuco Firmani – Choreographer & Dancer Manuco was born in Buenos Aires, and began his dance studies as a child with classes in folk and tango. In 2005 he entered el Instituto Universitario Nacional del Arte, Argentina, graduating in Choreographic Composition with a major in dance theatre. While in school, he began working with various tango companies, including Mora Godoy, participating in various international tours. He made his debut in Paris with 'Chantecler Tango', before returning to Buenos Aires to perform with Madero Tango and Taconeando. Manuco, a former member of the choreographic team at the Iñaki Ballet in Urlezaga, performed at the Shanghai Expo, before joining Gustavo Santaolalla's 'Arrabal'. Manuco has since interpreted the work of Veronica Litvak, and worked for three seasons with Tacoteco. He is currently performing in, and choreographed, the second season of 'Cuatro Noches', directed by Ignacio Gonzalez Cano. He was the choreographer of the hit children's show, 'El Tango es Puro Cuento', for which he received the Hugo Award for best choreography for a child and adolescent production (2015). Manuco was an assistant choreographer to Gerardo Litvak in 'Dance Night', which was presented at the Bicentennial House in December 2015, and in the sold out show of 'Perfume'. Since 2011, Manuco has taught tango as therapy to patients with Parkinsons disease at the Ramos Mejia Hospital, with an interdisciplinary dance group run by a team of doctors, psychologists and volunteers.
Soledad Buss & Cesar Peral – Dancers Soledad and Cesar began performing together in 2006, when they were selected by the renowned Argentine director Alfredo Arias and choreographer Ana Maria Stekelman to join the cast of "Les noces d 'le enfant roi" in Versailles, France. Mining their distinctly different dance backgrounds to enrich their partnership, they have developed a unique style that fuses tango with contemporary dance. In 2011 Sole and Cesar were the principal dancers at the most prestigious tango event in Spain, closing the festival in Granada with "Delicious Fragrant Creatures" by Laura Roatta. In October of that year they were invited to be special guests at the Festival of Shanghai, starring in Luis Ramirez and Analia Carreño's "Sorcery Tango." Since 2012 they have toured with the Broadway sensation "Luis Bravo's Forever Tango", and are the Principal Dancers in "Arrabal". Soledad is a graduate of the General San Martin Dance Theatre Workshop, Buenos Aires. After receiving the National Arts Fund Grant for Artistic Excellence, she went on to study in New York, Madrid and Berlin, before joining the Contemporary Ballet of General San Martin Theatre. She was featured in Monica Fracchia's "Casta Diva" and "Bare Feet" by Laura Roatta, and performed in numerous other major musical productions in Buenos Aires. Cesar Peral's dance background is rooted in Argentinian folklore, having been a member of the "Ballet Camin" at the International Festival of Cosquín for over a decade. Returning to Buenos Aires after a brief stint with the Folklorico Nacional Ballet, and a foray into musical theatre, Cesar embraced tango, performing in both "The Neighborhood Ventana Tango" and "Tango Malambo" by John Corvalan.
Marcelo Lupis – Artistic DirectorAudiovisual producer, multi-instrumentalist, sound engineer and advertising creative, with a Bachelor's degree in Sound Recording from UNLa Buenos Aires. Lupis has made soundtracks for dance, theater, cinema and TV, in the U.S., Argentina, and Brazil. Director credits for music video include Florencia Ruiz, Brian Questa, Pablo Grinjot, Love Songs for Robots, Fede Arroyo, Popelka, Monica Posse, Lupis, and Rascasuelos (Japan, Egypt, Canada, USA, Brazil, and the UK). Musical director and performance credits include the Mercedes Sosa Tribute Concert, Lincoln Centre (2010), Joan Baez, Leon Gieco, Gustavo Santaolalla, Walter Malossetti, Eva Ayllon and Florence Ruiz, Japan Tour 2014 (Violin and AV Director). In film, he Produced "Strange Things Happened" by Director Martin Toro, which was nominated for Cine Gear Expo (2011), L.A. Brooklyn Film Festival (2011), and received first prize at FeSanCor, Chile (2011). His film debut, "Fede Arroyo 80s Superstar", premiered at Instituto Nacional de Cine y Artes Audiovisuales (INCAA) Gaumont Cinema, Buenos Aires (2015). In 2017 he will release the debut studio album with his new band, Popelka.
Pix Talarico – Visual DirectorPix Talarico is a New York based film director and photographer who has directed music videos for artists, such as Juanes, Julieta Venegas, Paulina Rubio, Diego Torres, Julio Iglesias, Gustavo Cerati, Kevin Johansen and Bajofondo. He has been nominated for two Latin Grammy Awards and five MTV Awards among other multiple awards around the globe.
www.tangosvivos.global https://www.facebook.com/RascasuelosOrquesta/ https://www.youtube.com/watch?v=spGTDlAot9shttps://youtu.be/IaYekXOrOXQ