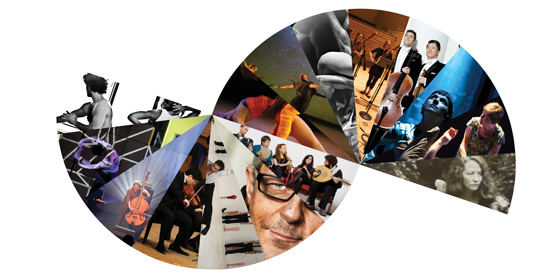 On the brink of its 10th birthday, the ever-adventurous Peak Performances is daring its performers
to step into new arenas during its 2013/14 season, September 19, 2013-June 15, 2014.
While the season, appropriately titled "Raising the Bar," features 14 new works, including five Peak-commissioned world premieres, Jedediah Wheeler, Peak's Artistic Director, is challenging many of the artists to expand their theatrical conventions by providing new opportunities including pairing choreographers with top lighting designers and filmmakers. For instance, choreographers Liz Gerring and Andrea Miller will work with acclaimed lighting designer Robert Wierzel, and choreographer Douglas Dunn will collaborate with filmmaker Charles Atlas. For some, including Gerring and Dunn, their Peak seasons also mark their first shows on a main stage of a traditional theatrical venue.
WORLD PREMIERES
Liz Gerring Dance Company's "glacier" (September 19-22);
Gallim Dance's "Fold Here" (September 26-29);
Vijay Iyer's "OPEN CITY" (October 4 & 5);
East of the River's "Darkness Is Your Candle" (December 21);
Douglas Dunn & Dancers' "Aubade" (Jan. 24-Feb. 1);
Liz Queler and Seth Farber's "Still Will Be Heard"(June 6-15).
U.S. PREMIERES
British troupe Vincent Dance Theatre's "Motherland" (Oct. 17-Oct. 20);
Jan Fabre's Belgian theater group Troubleyn's "Tragedy of a Friendship" (Oct. 31-Nov. 3);
London-based Wayne McGregor/Random Dance's "Atomos" (March 15-23);
Scottish theater company Cryptic's "Orlando" (April 10-13).
REGIONAL PREMIERES
Dan Welcher's "Museon Polemos" for the Shanghai Quartet and Miró Quartet (October 6);
David Roussève/REALITY's "Stardust" (February 6-9);
David Del Tredici's "Bullycide" for the Shanghai Quartet (March 30);
Dublin's CoisCéim Dance Theatre's "Swimming With My Mother" (May 10 and 11).
Liz Gerring Dance Company
Artistic Director: Liz Gerring
glacier
September 19-22
Times: September 19, 20 at 7:30pm, September 21 at 8:00pm, September 22 at 3:00pm
The world premiere of "glacier" points a move in a new—and reverse—direction for choreographer Liz Gerring, who is known to create the choreography before setting it to music. For "glacier" the choreographer who is acclaimed for works radiant with sensual athleticism, decided to work using a pre-existing score, also titled "Glacier," (but spelled with a capital G) by her long-time collaborator Michael Schumacher. The dance is 60 minutes—Gerring's longest—and uses seven dancers—the most she's ever used. It begins quietly with a series of gestures that evolve into in a sequence of images that morph into full body movements, which continually grow in layered complexity as the dance gathers momentum.
Gallim Dance 
Artistic Director: Andrea Miller
Fold Here
September 26-29
Times: September 26, 27 at 7:30pm, September 28, 8:00pm, September 29, 3:00pmAndrea Miller, who has been on the dance world fast track since she began choreographing five years ago, will make her Peak Performances debut with the world premiere of "Fold Here." Inspired by Raymond Chandler's short story "Cathedral" and performed by her company Gallim Dance, "Fold Here" considers the conceptual, physical and mystical properties of a cardboard box as a cathedral with which her dancers interact as they construct a work of their own. Like all of Miller's dances, "Fold Here" is physically dramatic, mining the deep emotional and theatrical resources of her riveting dancers.
Vijay Iyer
OPEN CITY: Vijay Iyer Large Ensemble Project
October 4-5
Times: October 4 at 7:30pm, October 5 at 8:00pm
Vijay Iyer, one of the most celebrated young jazz pianists and composers of his generation, will present the world premiere of "OPEN CITY: Vijay Iyer Large Ensemble Project." The work is performed by at least a dozen musicians including Vijay Iyer, piano, Fender Rhodes, electronics; Harish Raghavan, bass; Marcus Gilmore, drums; Ambrose Akinmusire, trumpet; Tyshawn Sorey, trombone and percussion; Rafiq Bhatia, guitar; Rajna Swaminathan, South Indian percussion; Okkyung Lee, cello; and Mat Maneri, viola. The work will use the poetry and lyrics by rap artist Himanshu Suri, who will also perform, as will Teju Cole, whose novel Open City inspired the work's title.
Shanghai Quartet and Miró Quartet
Octets
October 6 at 3:00pm
Two quartets—Shanghai Quartet and Miró Quartet—will become an octet when they present the East Coast premiere of composer Dan Welcher's "Museon Polemos," a tribute to the game-changing Balanchine/Stravinsky ballets of the 30's and 40's.
Vincent Dance Theatre
Artistic Director: Charlotte Vincent
Motherland
October 17-20
Times: October 17, 18 at 7:30pm, October 19 at 8:00pm, October 20 at 3:00pm
When the 20th century visionary Sigmund Freud famously asked "What does a woman want?" he probably couldn't forecast British choreographer Charlotte Vincent's 21st Century response: "What is it that we really, really want? And what on earth do we hope for now?" These very relevant questions are posited in Vincent's "Motherland," which dismantles the dream that women can have it all. Applying equal doses of wit, emotion and intellect expressed through an integration of live music, movement, spoken word and song, Vincent's cast of 10 men, women and children vibrantly argue against today's over-sexualized definition of femininity, hypocrisy, and time-resistant inequality.
Troubleyn
Artistic Director: Jan Fabre
Tragedy of a Friendship
October 31 – November 3
Times: October 31 at 7:30pm, November 2 at 8:00pm, November 3 at 3:00pm
Jan Fabre has simultaneously challenged and seduced audiences and critics since he began working over three decades ago. True to form is the three hour "Tragedy of a Friendship," a searing and unsparingly provocative exploration of the loving, mutually idolatrous, as well as volatile and ultimately incendiary relationship between Friedrich Nietzsche and Richard Wagner. Representing an alter ego to the other, composer and philosopher possess what the other secretly envied: Wagner's desire for Nietzche's brilliant philosophical mind and Nietzche's coveting of Wagner's musical genius. Together the two great men also embody the damning split between intellectual and creative brilliance, and represent the extremes of the times in which they were living. Focusing most strongly on the character of Wagner, the work at times terrifies with its brutality, and at others, shines with the sublimity of a Wagnerian opera. It was conceived and directed by Jan Fabre, who also designed the set; the music is by Moritz Eggert and Wagner, and the text is by Stefan Hertmans.
East Of The River
Artistic Directors: Daphna Mor and Nina Stern
Darkness Is Your Candle
December 21 at 8:00pm
Titled after the poem of the same name by Sufi poet Rumi and inspired by the Winter Solstice, "Darkness is Your Candle" calls upon Mediterranean, Balkan, Armenian and Middle Eastern music and songs to herald in the new year. East of the River was founded by recorder players Daphna Mor and Nina Stern.
Douglas Dunn & Dancers
Artistic Director: Douglas Dunn
Aubade
January 24 – February 1, Show times TBD
Douglas Dunn's most ambitious work to-date, "Aubade" integrates five Douglas Dunn dancers, with a dozen outside dancers, eight live musicians as well as live and pre-recorded video by the celebrated avant-garde filmmaker Charles Atlas. Characters play with and against choruses of dancers to suggest musical, kinetic and theatrical events that focus on the role of impending mortality and time in sharpening perception and deepening appreciation of the moment.
David Roussève | REALITY
Artistic Director: David Roussève
Stardust
February 6-9
Times: February 6-7 at 7:30pm, February 8 at 8:00pm, February 9 at 3:00pm
How does human intimacy fare in a world bewitched by speed and technology? David Roussève posits this question in "Stardust," a dance in which the protagonist, a gay African American teen, is physically invisible; his emotional and spiritual situation is expressed in unanswered text messages. Using a sound score that juxtaposes the warm romanticism of Nat King Cole with the rough-edged hip-hop-based original music of d. Sabela grimes, the choreography is divided between lush, jazz-inflected dancing and the frenetic, angular expression of the protagonist's anxious mind. The dance marks Roussève's first work without spoken text and the first without the choreographer in the leading role.
Wayne McGregor | Random Dance
Artistic Director: Wayne McGregor
Atomos
March 15-23
Times: March 15, 22 at 8:00pm, March 16, 23 at 3:00pm, March 20-21 at 7:30pm
"Atomos," the Greek word for indivisible, marks British choreographer Wayne McGregor's further investigation of the meeting point between science, technology and the human body. McGregor's visceral imagination, the physical force of his dancers, and the power of the dance's visual and aural imagery distinguishes "Atomos," which was inspired by his fascination with the simplest form of life: the cell. The dance will be performed to a commissioned score by the composer/musicians A Winged Victory for the Sullen, who will play the music live.
Michael Gordon
Rushes
March 29 at 8:00pm
How many bassoons does it take to make a radically beautiful piece of music? For composer, musician and Bang on a Can founder Michael Gordon, the magic answer is seven. When asked to compose for the bassoon, Gordon's self-imposed challenge was to "create a beautiful landscape" through sound that is at once dense, propulsive, rhythmic and visceral. The resulting music's title "Rushes" refers to the double reeds that the players blow through and the rush of euphoria Gordon hopes to elicit.
Shanghai Quartet
Bullycide
March 30 at 3:00pm"Bullycide," a work in two movements by composer David Del Tredici, is dedicated to five gay teenagers who recently took their own lives as a result of the horrific persecution they suffered for their homosexuality. For "Bullycide," performed by the Shanghai Quartet, Del Tredici added a fifth stringed instrument, the contrabass, to match the number of lives taken, which included Rutgers University student Tyler Clementi. In addition to the Shanghai musicians, "Bullycide" includes two guest artists: DaXun Zhang on contrabass, and Orion Weiss on piano.
Cryptic
Artistic Director: Cathie Boyd
Orlando
April 10-13
Times: April 10-11 at 7:30pm, April 12 at 8:00pm, April 13 at 3:00pmCryptic, the radically adventurous Scottish theater company, will make its U.S. debut with its adaptation of "Orlando," Virginia Woolf's witty take on sex, love and history, which has been described as "the longest and most charming love letter in literature." To cast the novel's spell, Cryptic's staged version of "Orlando," which spans four hundred years of the protagonist's life, employs some of the newest digital technology.
Coiscéim Dance Theatre
Artistic Director: David Bolger
Swimming With My Mother
May 10-11
Times: May 10 at 8:00pm, May 11 at 3:00pm
This danced story—on land and in water—explores the relationship between choreographer David Bolger, his mother Madge, and the importance of swimming in their lives. Learning to swim was a gift that was handed down from generation to generation in their Irish family. The accompanying soundscape includes voiceovers of Madge and David along with songs of Nat King Cole and Saint Saëns' "Aquarium" from "Carnival of the Animals." An award-winning film featuring mother and son performing an aquatic ballet adds another dimension to the work, which is being performed over Mother's Day Weekend.
Liz Queler and Seth Farber
Still Will Be Heard
June 6-15
Times: June 6, 13 at 7:30pm, June 7, 14 at 8:00pm, June 8, 15 at 3:00pm
"Still Will Be Heard" was born from twin circumstances: The horror Liz Queler experienced as she witnessed her father's destruction by Alzheimer's Disease and her simultaneous discovery of the poetry of Edna St. Vincent Millay. The poetry was an immeasurable boon through those horrendous times, inspiring the setting of Millay's poetry to elements of folk, bluegrass, country, rock and jazz. Performed by actors and musicians, the resulting songs, interspersed with spoken word, are by turns dark, playful, fierce and beautiful giving new vitality and relevance to Millay's great work.