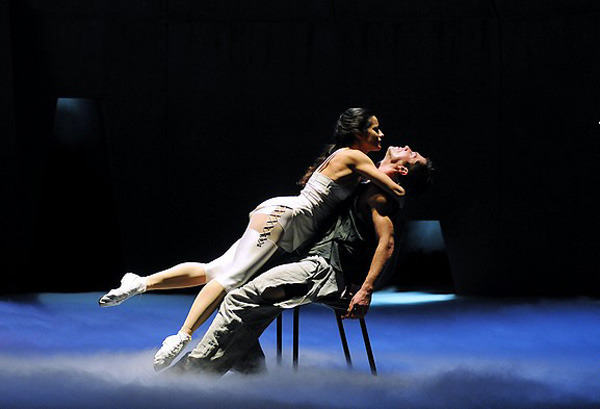 The story of Romeo and Juliet will be looked at anew when the Lyon Opera Ballet presents the world premiere if Angelin Preljoca's unorthodox interpretation of the Shakespearean classic at the Auditorium Maurice Ravel in Lyon, December 27-31.
Using a shortened version of the Prokofiev score, and setting the ballet in an unspecified time in the future, Preljocaj presents the lovers less as victims of fate than as victims of an oppressive class structure in which chastity is equated with political goodness. The headstrong and passionate love between Juliette, a daughter of the ruling class, and Romeo, a son of the underclass, challenges the existing mores and established order of Verona society.
Juliette will be alternately danced by Pascale Doye and Nathalie Delassis, and Romeo will be performed by Nicholas Dufloux and Philippe Lormeau. The unconventional sets and costumes are by Enki Bilal. Kent Nagano will conduct. The ballet runs approximately 90 minutes
Most recently the Lyon Opera Ballet presented the world premiere of "Dancing Zappa," a three part dance the resulted from the commission of a trio of American artists Karole Armitage, Lucinda Childs and Ralph Lemon. Presented at the Lyon Biennale de la Danse in September, the work represents the unusual point of view of the company, which has commissioned Maguy Marin to create her now classic "Cendrillon."
Created in the 1969 by Louis Erlo, the present Lyon Opera Ballet was established in 1984 when Mr. Merlo, Director of the Lyon Opera, invited Francoise Adret to create a new ballet company devoted to the performance of works by contemporary choreographers. Yorgos Loukos, who had been the company's associate artistic director since 1984, was appointed co-artistic director with Ms. Adret in in 1988. To date, the company has acquired and commissioned ballets by a wide range of international choreographers including William Forsythe, Jiri Kylian, Nil Christie, Nacho Duato, Mathilde Monnier and Jean-Francois Duroure, Robert Desrosiers, Mats Ek, Christopher Bruce, and Ohad Naharin, as well as Angelin Preljocaj.