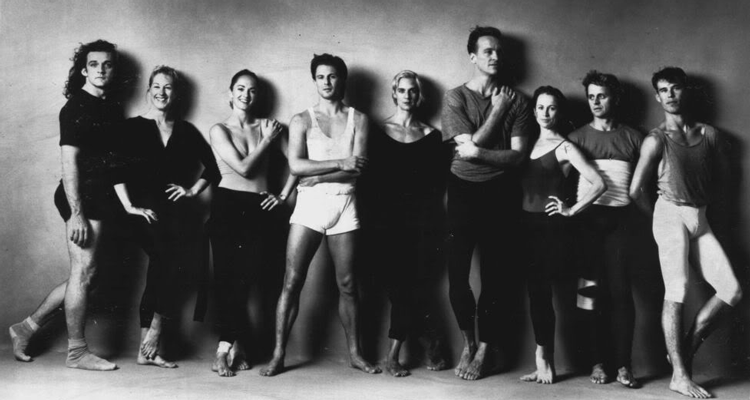 A series of premieres and debuts will mark White Oak Dance Project's upcoming European fall tour. Presented by Baryshnikov Productions and scheduled to take place from early November to mid-December, the tour will feature new dances by Karole Armitage, Tamasaburo Bando, Neil Greenberg, Lucy Guerin, Mark Morris, and Amy O'Brien.  Five women—Raquel Aedo, Emily Coates, Emmanuèle Phuon, Ruthlyn Salomons, and Susan Shields—will join Mikhail Baryshnikov for White Oak's European dates.
The tour, which follows on the heels of White Oak's recent sold-out American tour and two week engagement at New York's New Victory Theater, will be highlighted by the European premiere of Karole Armitage's "The Last Lap." Reflecting the lyricism and turbulence of its Shostakovich score (the prelude and first movement of Quintet for Piano and Strings), the dance will be performed by the full company.
The Australian choreographer, Lucy Guerin, will be represented by two works: "Two Lies," choreographed for her own company in 1996, and "Soft Center," a White Oak commission, which received its first performance during the company's spring U.S. tour.  "Two Lies," a trio for women, is set to music by David Chesworth, and "Soft Center," a duet for Raquel Aedo and Mikhail Baryshnikov, is set to a contemporary electronic score.
Also scheduled is Tamasaburo Bando's "Dance with Three Drums and Flute," a riveting solo for Baryshnikov, which was shown in preview in January at a benefit for Dancers Responding to AIDS at St. Mark's Church in New York.  Neil Greenberg's "MacGuffin or How Meanings Get Lost (Revisited)," which also had been previewed at the DRA benefit, will be performed. A dance for Baryshnikov and the five female dancers, the work is performed to music by Bernard Herrmann.
The premiere of Amy O'Brien's "Vessel," which is set to a series of Chopin nocturnes, waltzes and mazurkas, will be performed by Raquel Aedo, Emily Coates, and Emmanuèle Phuon.  And finally, there will be performances of Mark Morris's "The Argument," a work for Raquel Aedo, Mikhail Baryshnikov, Ruthlyn Salomons and Susan Shields, set to Robert Schumann's Fünf Stücke im Volkston.
White Oak Dance Project was created in 1990 by Mr. Baryshnikov with Mark Morris as its choreographer. Comprised of some of the finest dance artists in the United States, White Oak features alumni of major dance companies such as New York City Ballet, Alvin Ailey American Dance Theater, Mark Morris Dance Group, Lar Lubovitch Dance Company, and Elisa Monte Dance Company.
Besides Morris, to date White Oak has commissioned new works from Paul Taylor, Twyla Tharp, Lar Lubovitch, Jerome Robbins, Dana Reitz, Tere O'Connor, Charles Moulton, Joachim Schlömer, Kevin O'Day, Graeme Murphy, and first-time choreographers Kraig Patterson, Ruthlyn Salomons and Vernon Scott.  It has also presented revivals of works by Hanya Holm, Martha Graham, Martha Clarke, Jane Dudley, José Limón, Meredith Monk and Paul Taylor, as well as the choreographers represented on the current programs.
In the nine years of its existence, the company has already made thirty national and international tours and has been seen in major cities across the world.