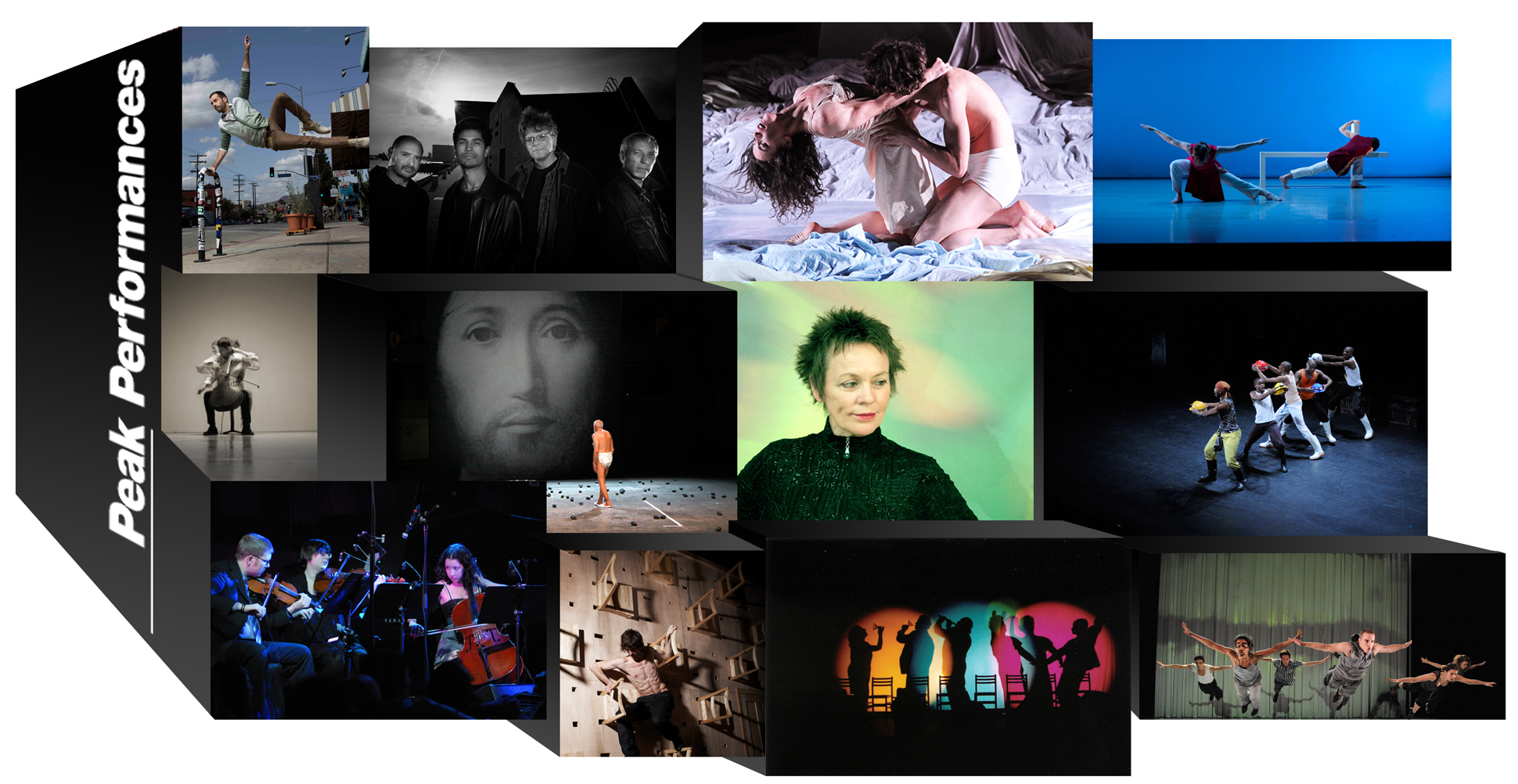 MONTCLAIR, New Jersey – Peak Performances has been rapidly making Montclair State University a major cultural destination, even for New Yorkers. Consider the below.
Nine premieres including stunning, often startling, new music, dance and theater works by composers David T. Little, Laurie Anderson; choreographers Benjamin Millepied, Richard Alston, Vusi Mdoyi, Jasmin Vardimon; directors Robert Wilson and Romeo Castellucci are among the highlights of the 2012/13 Peak Performances season. Peak is where exceptions rule.
"Even shockingly new ideas always have a history," said Peak Performances' Artistic Director Jedediah Wheeler, "which is what our 2012/13 season is planned to reveal. Would there be a David T. Little had there not been a Laurie Anderson or a Schubert? Would there have been a William Forsythe had not Merce Cunningham and George Balanchine broken important ground? Probably, but their work would also probably be different. These iconoclasts, these exceptions to the rule, while unique in their own creative spirit, owe a debt to pioneering artists whose work is now revered as classic. This is what we want to celebrate in the wide range that distinguishes this season's lineup."
PLEASE NOTE: BLUE = OPERA, PURPLE = DANCE, ORANGE = THEATER, GREEN = MUSIC
DAVID T. LITTLE, ROYCE VAVREK, ROBERT WOODRUFF, JUDY BUDNITZ, ALAN PIERSON 
Dog Days
SEPTEMBER 29–OCTOBER 7, Times: September 29 and October 6 at 8pm, September 30 and October 7 at 3pm, October 5 at 7:30pm
The season opens September 29 with the long-anticipated world premiere of David T. Little's darkly comedic "Dog Days," which combines elements of opera, musical theater and rock-infused concert music to shape its horrifying prediction of the future. Set in an imagined, war-torn United States, the opera poses a series of dangerous questions: Is it madness, delusion, or sheer animal instinct that guides us through perilous times? If necessary, when should man yield to his animal instincts to survive? Based on a short story by Judy Budnitz, and performed by a cast of six singers and an actor, "Dog Days" is tough, funny, and ultimately, deeply humane. Royce Vavrek is the librettist and Alan Pierson, the music director. This Peak production is being produced in association with Beth Morrison Projects.
BENJAMIN MILLEPIED/L.A. DANCE PROJECT
New work by Benjamin Millepied, Quintett by William Forsythe, Winterbranch by Merce Cunningham
OCTOBER 25–28, Times: October 25, 26 at 7:30pm, October 27 at 8pm, October 28 at 3pm
The east coast debut of the L.A. Dance Project, the new six-member company by Benjamin Millepied, one of the fastest rising stars on the international dance scene, takes place at Peak, October 25-28. The repertory features the revival of Merce Cunningham's still-controversial "Winterbranch" (1964) set to La Monte Young's two-note score; William Forsythe's "Quintett" (1993) set to Gavin Bryar's looping "Jesus' Blood Never Failed Me Yet," and a premiere by Millepied (to be titled) set to a new score by his close musical collaborator Nico Muhly, with a visual design by painter Christopher Wool.
RICHARD ALSTON DANCE COMPANY
A Ceremony of Carols, Roughcut, Unfinished Business
DECEMBER 13-16, Times: December 13, 14 at 7:30pm, December 15 at 8pm, December 16 at 3pm
The United States premiere of Richard Alston's "A Ceremony of Carols" is scheduled for December 13-16 when the London-based Richard Alston Dance Company makes its Peak Performance debut. Premiered in February 2012, the dance, which reaffirms Alston's fame as one of contemporary dance's most original and musical choreographers, was created to celebrate the centenary of the birth of Benjamin Britten. The award-winning Montclair State University chorus, featuring MSU students and directed by Heather J. Buchanan, will accompany the dance on stage, along with harpist André Tarantiles. The program also features "Roughcut," a fiercely athletic dance set to the driving force of Steve Reich's score and "Unfinished Business," a lively, elegant work set to Mozart.
ROBERT WILSON, BERNICE JOHNSON REAGON, TOSHI REAGON, JACQUELINE WOODSON
Zinnias: The Life of Clementine Hunter
JANUARY 26-FEBRUARY 3, Times: January 26 and February 2 at 8pm, January 27 and February 3 at 3pm, January 31 and February 1 at 7:30pm
A new chamber opera based on the life of renowned African-American artist Clementine Hunter, "Zinnias" is an intimate exploration of one of America's greatest natural talents. Born on a plantation in Natchitoches, Louisiana, Hunter's experiences revealed an innate talent for depicting life in the early 20th century through her paintings. Now, using her artwork and stories, Clementine Hunter's touching and unique journey is brought to the stage through the collaboration of Robert Wilson, Bernice Johnson Reagon, Toshi Reagon and Jacqueline Woodson. This Peak production was workshopped at The Watermill Center (Summer 2011) and at Montclair State University's Alexander Kasser Theater (May 2012).
SOCÌETAS RAFFAELLO SANZIO/ ROMEO CASTELLUCCI
On the Concept of the Face, Regarding the Son of God
FEBRUARY 14-17, Times: February 14, 15 at 7:30pm, February 16 at 8pm and February 17 at 3pm
One of Europe's most controversial and celebrated artists Romeo Castellucci and his Italian theater company, Socìetas Raffaello Sanzio, return to Peak Performances, February 14-17, with one of the director's most hotly argued about works to date, "On the Concept of the Face, Regarding the Son of God."  The story of a son morally compelled to care for his aging, incontinent father who has lost all control of his bowels, the play takes place on an antiseptically white stage with a huge portrait of an enigmatically smiling Christ hanging behind the couch.  Graphic in its smell and smearing use of excrement, Castellucci's newest work challenges the audience not to turn its eyes from its riveting and complex subject matter: shame, degradation, duty, and love.  A U.S. premiere, "On the Concept of the Face, Regarding the Son of God" has already been seen at Barbican in London, the Chekhov International Theatre Festival in Moscow, Festival d'Avignon in France, Théâtre de la Ville in Paris, among other major international venues.
VIA KATLEHONG DANCE 
Katlehong Cabaret
MARCH 16-24, Times: March 16, 23 at 8pm, March 17, 24 at 3pm, March 21, 22 at 7:30pm  
Via Katlehong Dance, South Africa's exuberant dance troupe of eighteen performers, returns to Peak Performances, March 16-24, with the U.S. premiere of "Katlehong Cabaret." Life in the township of Katlehong, a notorious war zone during the uprisings in the '80's, is the inspiration.  Greeted with overwhelming enthusiasm by the Parisian press at its premiere this year, "Katlehong Cabaret" employs the company's signature combine of gumboots, tap, hip hop, a cappella singing, and percussion to capture and share the indomitable spirit and optimistic energy of their hometown.  Vusi Mdoyi is the choreographer, Siphiwe Nkosi is the artistic director, and Hlengiwe Lushaba is credited with the conception.
JASMIN VARDIMON COMPANY
Freedom 
APRIL 18-21, Times: April 18, 19 at 7:30pm, April 20 at 8pm, April 21 at 3pm  
The Israeli-born Jasmin Vardimon, an Associate Artist at the Sadler's Wells since 2006, will present the American premiere of "Freedom" at Peak Performances.   The work, which will receive its world premiere in London this coming fall, is forecasted to combine Vardimon's bold physicality, innovative technologies, text and movement to explore the ways in which the imagination can be kept free.  Plans also include visuals that fuse animation with the live action on stage.  The April 18-21 Peak engagement marks the Company's east coast debut, and only second visit to the U.S.
LAURIE ANDERSON AND KRONOS QUARTET
World Premiere (title to come) 
MAY 10-11, Times: May 10 at 7:30pm and May 11 at 8pm 
Two of the music world's great trailblazing heroes, Laurie Anderson, who continues to marry new music, poetry, text and rock into something gorgeously unexpected, and the Kronos Quartet, which has introduced some of the most wildly experimental music to audiences, will present the premiere of a sixty minute work by Anderson.  The new work (title to come) includes a series of twelve three-minute songs for processed violin, as well as twelve integrated stories, each using the same situation to describe the way time passes, while each describing it from a different point of view.  In trademark Anderson fashion, the stories will be spoken over rhythmic underscoring, this time provided by the Kronos musicians, who both improvise and play slow-moving atmospheric clusters.
OF MUSICAL NOTE 
One-Day Only Specials 
The season will also include one-night stands by some of the most original music groups working today.
The first is ARTEK's production of "I'll Never See the Stars Again" on October 20 at 8pm, which turns early music composer Claudio Monteverdi and his contemporaries into an emotional mosaic of compelling, innovative theater through its postmodern staging.
On October 21 at 3pm, the Shanghai Quartet, artists-in-residence at Montclair State University, will present a concert of music by Haydn, Ravel, and Schubert followed by a concert on April 12 at 7:30pm, featuring music by Shostakovich, Mozart and Dvořák.
On February 9 at 8pm, Lionheart Vocal Ensemble, the adventure-loving, all-male a cappella group (two tenors, two baritones, a countertenor and a bass), will present "Wayfaring Stranger," a program embracing music from the Renaissance to the late folk hero Laura Nyro.  Then in a new twist, a string quartet drawn from American Contemporary Music Ensemble (ACME) will amplify The Lionheart singers in two works by Ingram Marshall, including the East Coast premiere of his "Psalmbook."