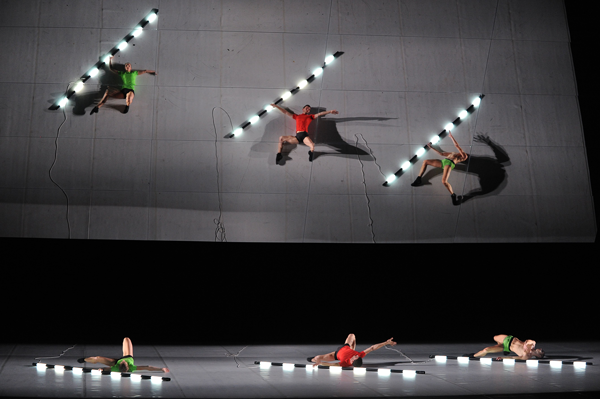 Ballet National de Marseille has had a mind of its own since it was established in 1972 by Roland Petit, who created some of the 20th Century's most innovative and, at the time, shocking ballets. Consider "Le jeune homme et le mort," "Carmen" and "Proust."
After Petit resigned as Artistic Director in 1998, the company was headed by former Paris Opera Ballet etoile Marie-Claude Pietragalla for six years (1998–2004).  Then a bold decision was made to offer the position of Artistic Director to Frederic Flamand, a Belgian avant garde artist, who had transformed a neoclassical ballet group in Charleroi, Belgium (the main company of the Belgium's French-speaking community) into a modern dance company.  Although Flamand had never run a major international ballet company, his unique artistic and philosophical vision captured the imagination of the search committee.
At first scandalized that a man trained in theater would lead France's second national ballet company, Flamand's first production in Marseille was declared a hit; and the French dance world did an about face, congratulating the company for its fresh vision.   The work was "La Cite Radieuse" with a set design by architect Dominique Perrault.
Although Flamand is radically different from Petit–where Petit introduced a new realism and "show biz" to ballet, Flamand creates ballets that are conceptual and abstract–Flamand carries the company's tradition of innovation into the 21st Century.
Flamand's fascination with the relationship of the moving body in space and its environment led him to 10 years of theatrical collaboration with the world's greatest architects.   The architects with whom Flamand has collaborated–both prior to his appointment to Marseille and now–include towering international award-winners such as Thom Mayne, who was given a retrospective at the Los Angeles County Museum of Contemporary Art in fall 2007; Jean Nouvel, whose work includes the well-known renovation of the Lyon Opera House and the Arab World Institute in Paris; Elizabeth Diller and Ricardo Scofidio, the first architects to win a MacArthur "Genius" Award, and designers of the High Line project in New York; Dominique Perrault, who designed French National Library in Paris and is currently working on the new auditorium for the Maryinsky Theatre in St. Petersburg; and Zaha Hadid, winner of the 2004 Pritzker Prize and designer of the Rosenthal Center for Contemporary in Cincinnati, who is also the subject of a major retrospective by the Guggenheim Museum in New York, June 3–August 23.
The concepts for the ballets are jointly created by Flamand and the architect; Flamand choreographs the dance and the selected architect creates the scenography.  The result is a stage that looks like no other in the world, brimming with contemporary ideas that are expressed through the movement and set design.