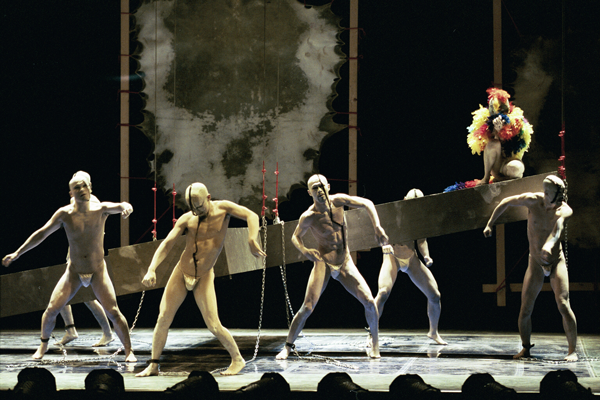 DURHAM, NC – The American Dance Festival has spent decades scouring the planet in search of untapped dance talent, commissioning premieres from young artists and major established choreographers, providing a summer stage for many returning artists, while offering a slew of ancillary programs that ensure the groundbreaking tradition of modern dance.  It is no accident then, that for 73 years, ADF has been the summer epicenter for experiment, surprise and change.
Take out your calculators.  During the 2006 ADF, June 8–July 22, look for 25 premieres, 4 debuts and 13 return engagements by companies and artists based in Israel, Spain, Russia, Japan, Argentina, and of course, the United States.   Expect world premieres from Shen Wei Dance Arts, Ronald K. Brown/EVIDENCE, Doug Varone and Dancers, David Dorfman Dance, Keigwin + Company, Sara Juli, as well as from Tatiana Baganova, Luis Garay and Takuya Muramatsu, who are participants in the ADF International Choreographers Commissioning Program (ICCP).
Other highlights include a U.S. premiere by Israel's Emanuel Gat Dance and ADF debuts by Miguel Gutierrez, Sara Juli, Luis Garay and Spain's Soledad Barrio & Noche Flamenca.  Rounding out the international line-up with two more ADF premieres are Russia's Provincial Dances Theatre and a cross-cultural program by Pandit Chitresh Das (Kathak) and Jason Samuels Smith (Tap).  ADF stalwarts Pilobolus and the Paul Taylor Dance Company–both winners of the Samuel H. Scripps/American Dance Festival Award–return with ADF premieres.
Of the season's premieres, eight were commissioned by the 2006 ADF: Emanuel Gat Dance, Shen Wei Dance Arts, Doug Varone and Dancers, Keigwin + Company, Ronald K. Brown/EVIDENCE and all three ICCP performances.
FOREIGN AFFAIRS: Among the international dance companies slated for this year's ADF, Provincial Dances Theatre from Yekaterinburg, Russia will present Tatiana Baganova's "Wings at Tea," (June 26–28), a full evening work featuring original music by American cellist Chris Lancaster.  The surreal, image-ridden dance theater piece (the Devil plays a cello and a pig flies) explores the human condition and the battle of the sexes through a series of wildly imaginative vignettes infused with sly doses of off-the-wall wit.  An earlier version of the work premiered at the 2001 ADF as part of the ICCP. The engagement marks Provincial Dances Theatre's second visit to the ADF.
Marking its second consecutive season at ADF, Emanuel Gat Dance, based in Kiryat Gat, Israel, will present the American premiere of  "K626" (June 29–July 1), titled after the Kershaw number of its 45-minute Mozart score, "Requiem, K626."  The music's 13 parts are separated by long intervals of silence.  Combining deep emotion and abstraction, the 60-minute dance calls on the company's 11 female dancers to explore contemporary and classical notions of women dancing.  Reflecting the international recognition that the two-year-old troupe has rapidly received, "K626" is a co-commission of the ADF, Festival de Marseille (France), UzesDance (France), GRAN teater for Dans (Denmark) and TANZtheater International (Germany).
Although an annual visitor to New York City theaters, the Madrid-based Soledad Barrio & Noche Flamenca will make its ADF debut with a program showcasing the wide range of flamenco forms (July 20-22). Barrio, renowned for her compelling sensuality and soulful earthiness, headlines the show.  The accompanying band of Spanish dancers, musicians and vocalists, an integral part of flamenco, echo the mystery, complexity and vitality of the centuries-old form.
A cross-cultural premiere, "Rhythm Suites: Kathak & Tap Dance" (June 15-17), joins Indian master Kathak dancer Pandit Chitresh Das, 60, and Los Angeles master tapper Jason Samuels Smith, 24, in a program of collaborative jamming.  Uniting worlds by trading moves to music by their respective cultures, the performances showcase the similarities of the two dance forms' dependence on rhythmic complexity, intricate footwork and improvisation.
Additionally, Japan's Takuya Muramatsu, Argentina's Luis Garay and Russia's Tatiana Baganova will create new works on ADF dancers as part of the Festival's International Choreographer's Commissioning Program.  The ADF-commissioned dances will receive their world premieres at ADF, July 17–19.
DOMESTIC RETURNS:  The Paul Taylor Dance Company returns to ADF, June 8–10, with a program celebrating Taylor's famed versatility.  Highlights feature Taylor's 2005 dark look at death, "Banquet of Vultures," set to Morton Feldman's 1976 "Oboe and Orchestra."  Two other works to be announced.
Pilobolus, which has summered at ADF since the fungus-named company's beginnings in 1971, will present "Prism" by Michael Tracy, Jonathan Wolken's freshly minted "Memento Mori" (2006), as well as a host of Pilobolus hits showcasing the troupe's athletic, and at times dark, wit: "Shizen" (1978), "Day Two" (1980) "Solo from the Empty Suitor" (1980) and "Gnomen" (1997).  The company performs June 22–24.
In his multimedia "underground," a world premiere (June 12–14), David Dorfman explores the inside world of political activism through text by Anne Washburn, an original score by Jonathan Bepler, video design by Jacob Pinholster.  Alex Timbers serves as co-director and dramaturge.
New York downtown stars, Sara Juli and Miguel Gutierrez, will make ADF debuts (June 19–20) in a double bill that features Gutierrez's well-received 2005 solo, "Retrospective Exhibitionist" and Juli's world premiere, "Deep Throat."
Though it can be argued whether Shen Wei is an American or Chinese artist (He is now an American resident and his work is highly influenced by his Chinese opera and modern dance training.), his dances stand on their own highly original ground.  At ADF Shen Wei Dance Arts presents an ADF-commissioned world premiere (title to come), July 3–5, based on his recent trips to Tibet. The 20-minute work features a set designed by the choreographer and ancient Chinese poetry from the Tang Dynasty interwoven with conversations Wei recorded with Tibetans.  The score combines eastern and western instrumentals and vocals. The company will also perform Wei's 2005 "Map," a pulsing work set to Steve Reich.
Doug Varone, who has been steadily claiming a unique place as a master in contemporary dance, will present an ADF-commissioned world premiere (information to come) along with two major works, July 6–8: The explosive and subtle  "Castles" (2004), set to Prokofiev's "Waltz Suite, Op. 110" and Varone's signature "Rise," whose ecstatic choreography is set to John Adams's "Fearful Symmetries."
Two world premieres—"A Modern Line," an ADF commission, and "Only the Lonely"—highlight Keigwin + Company's return to the Festival, July 10–12. Using ADF students and Durham community members, and set to Ravel's "Bolero," the  "A Chorus Line"-inspired work, "A Modern Line" wittily examines the audition process in the context of daily life.  The other world premiere, "Only the Lonely," set to music from the '80's, is a series of duets revealing differing perspectives on love.  "Urban Birds" parallels the soaring flights of migrating birds and humans in an urban landscape; "Comic Strip" is filled with frolicking, gender-bending superheroes; and "Lazy Boy," a solo for Keigwin, reflects on American TV culture.
Ronald K. Brown/Evidence will present the ADF-commissioned world premiere of "One Shot" (working title) inspired by the African American photographer, Charles "Teenie" Harris, nicknamed One Shot.  The scenic design includes film/collage photographs by the Pittsburgh photographer; the music combines classical jazz by Billy Strayhorn and the torch ballads of Phyllis Hyman, among others.  Also on the program are Brown's "Order My Steps" (2005), which takes its title from the 119th Psalm and is set to music by Terry Riley, Fred Hammond and Bob Marley, as well as "High Life" which Brown premiered in 2000.  The company performs July 13–15.