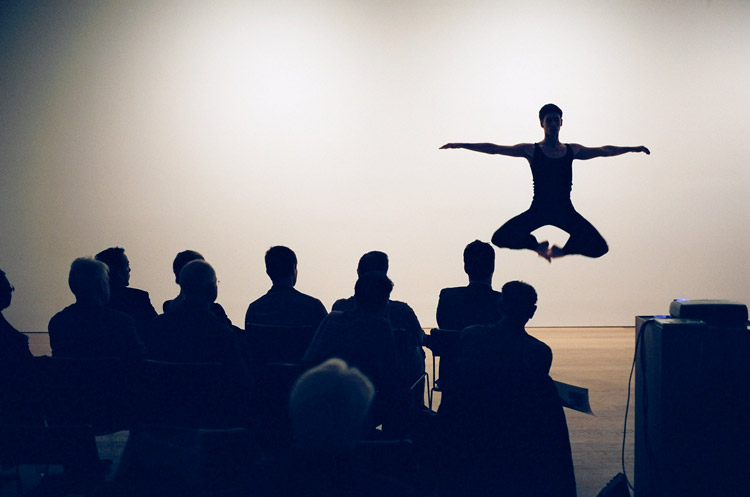 For Jonah Bokaer, there are 25 hours in a day. No, make that 26….at least. Look at what the 26-year-old choreographer, dancer, activist and social entrepreneur is up to in the next couple of months.
He recently returned from Warsaw, where he spent a week creating the choreography for Robert Wilson's newest work, Charles Gounod's five-act opera "Faust," which is scheduled to premiere at Teatr Wielki in Warsaw on October 26th. He came back to New York City in the nick of time to prepare for:
(1) SNEAK PREVIEW OF CPR – CENTER FOR PERFORMANCE RESEARCH Together with choreographer John Jasperse, Bokaer, who was a founder of the Brooklyn arts organization Chez Bushwick, is creating a new space for dance and performance art, CPR – Center for Performance Research, located on the first floor of Greenbelt, a four-story residential condominium currently under construction. On March 8, there will be a sneak preview of CPR, offering the public a first look at its potential uses. The Saturday night festivities include free performances by a slew of downtown luminaries such as Ann Liv Young, Kayvon Pourazar, Amanda Loulaki, Matjia Ferlin, Aimar Perez Galí, and Bokaer himself in collaboration with Michael Cole.
(2) "THE INVENTION OF MINUS ONE" and "FALSE START," two premieres by Bokaer, will be presented at the Abrons Arts Center, March 12–16. Embodying the adventurous spirit of the 21st century, Bokaer's dances marry cutting-edge technology with the physical beauty of human movement, celebrating their capacity to transform the look and meaning of the other while posing philosophical questions about each. For "The Invention of Minus One," Bokaer has enlisted the talents of past and present stars of the Merce Cunningham Dance Company.  They include Holley Farmer, Rashaun Mitchell and Banu Ogan.  The costumes are by Isaac Mizrahi; the virtual décor by Michael Cole, a Cunningham alumnus; and the lighting is by Bessie award winning designer Aaron Copp.  The music is an original electronic score by Christian Marclay. Inspired by Jasper Johns's iconic painting of the same name, "False Start," is a solo choreographed, animated and performed by Bokaer.  The dance, recalling the early motion studies of Eadweard Muybridge, questions the ways in which the dancer simultaneously erases his presence while creating a sequential moving image.
(3) 2WICE, the award-winning arts publication, uses Bokaer as its single subject for its spring edition (to be published March 14).  With Joachim Ladefogaed's unblinking camera lens as his silent witness, Bokaer enacts "False Start" in its entirety, using a mirrored floor as a revealing partner to reflect and create new aspects of reality. The book is designed so that the individual painterly portraits of Bokaer moving can be viewed as single images or as a flip-book; the creative choice is up to the viewer.
(4) PULSE Contemporary Art Fair invited Bokaer to create public programming at Pier 40 in association with the New York Armory Show.  The exhibitions and events planned include Bokaer's performance of "The Invention of Minus One" and a program by artists whose work cross into the realm of visual art performance.  Bokaer is also planning a series of youth workshops taught by him and other professional dancers geared to engage younger audiences in the experience of installation-based artwork.