How many choreographers have had dancers walk down the sides of buildings, and dance across New York City roof tops? Create a dance that straps a camera to the performer's back and also make a work for the Paris Opera Ballet?; situate a marching band outside of the theater to accompany a dance inside and also choreograph a 17th century opera?; create a work during which paintings are slowly lowered so that the dancers' limbs are gradually subtracted from view? Fun and serious. Free spirited as the wind, meticulous as an accountant. Trisha Brown.
The Trisha Brown Dance Company has raised $2.5 million, or half of the goal of the fundraising campaign it launched 13 months ago, according to an announcement by Brown Board President Kirk Radke. The money is earmarked for programs that ensure the future of the company.
When Ms. Brown retired as head of her company last year, the 77 year old choreographer appointed longtime company members Diane Madden and Carolyn Lucas as associate artistic directors with the mandate that they: (1) develop, deepen and expand the Company's educational initiatives to ensure new generations of Brown-trained dancers are technically qualified to perform her work and that her unique ideas about movement continue to stimulate generations of artists, (2) to present her dances in a variety of spaces, indoors and out, proscenium and alternative (3) treat the company's archive as a living organism to be used to better understand her work in particular, and dance in general.
The challenge was to design a workable plan that took each of the three into consideration, to connect the dots and to preserve the vibrant spirit of its founder as its heart and soul. Present and past dancers and company administrators were consulted, board members met for endless hours, other dance troupe leaders facing similar issues were questioned, discussions were held with present and future funders, national and international presenters and educational leaders were brought into the mix.
With lead support from the Trisha Brown Dance Company Board of Directors, The Andrew W. Mellon Foundation, Booth Ferris Foundation, The New York Community Trust with major, ongoing support by the Robert Rauschenberg Foundation, great progress has been made in fulfilling Brown's mandate: P.A.R.T.S. in Belgium and Gibney Dance Center in New York City will be among the educational centers for the teaching of Brown's movement principles and choreographic ideas; in New York City, the Lower Manhattan Cultural Council and in Los Angeles the Center for the Art of Performance at UCLA will continue to serve as performance collaborators. The Company is presently negotiating for an appropriate place for the Trisha Brown archives. Madden and Lucas are working closely with each of the partners and are overseeing all artistic aspects of the plan.
The Company is currently halfway through its three-year "Proscenium Works, 1979-2011" tour, which has over 45 major national international dates lined up through December, 2015. In keeping with Brown's experimental and adventurous spirit, in January of 2016, the troupe will dissolve in its present form and become project–based, re-shaping itself to appropriately respond to changing demands of the contemporary dance scene.
"We want to have the flexibility and mobility to be open to the new and unexpected," said Carolyn Lucas. "All of what we do is designed to ensure that Trisha's work continue to be performed in the same spirit and integrity with which it was created," Diane Madden continued.
Celebrated for her uncanny wit as well as her notorious sense of adventure, Brown's determination to challenge conventional perception and the risk-taking spirit that she demanded both of herself and her audiences infuses all her work. "From now on let's not do anything that's not fun," Brown once declared.
"She is a grand adventurer. It is something to treasure and guide our thinking in preserving her legacy," said the Company's Executive Director, Barbara Dufty. "Her legacy is combination of the mathematical rigor she applied to her work, her free spirited intellect and her profound respect of the role of visual arts in dance." Brown, herself a respected visual artist as well as choreographer, is well-known for her collaborations with other visual artists, including Robert Rauschenberg, Terry Winters, Nancy Graves, and Donald Judd.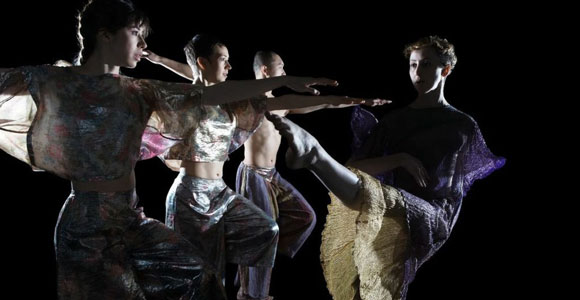 The Company's upcoming season at New York Live Arts, April 8-13, signals the beginning of its new future. Since New York Live Arts is not equipped to present "Son of Gone Fishin'" with its Donald Judd set, it will be performed in an early version without it. The season also features "Solo Olos" (1976); "Opal Loop/Cloud Installation #72503: (1980) and "Rogues" 2011.