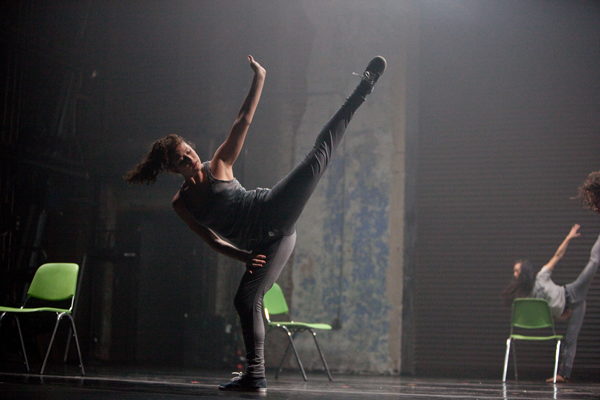 Chase Brock works in reverse of conventional modern dance choreographers who take aim at Broadway only after establishing themselves on the "serious" concert dance stage. Brock, who began his career at age 16 on the Great White Way in "The Music Man," recently committed his prodigious talent to modern dance. The result is the three year old The Chase Brock Experience, which is slated to reveal the flip side of Brock's often sunny choreography in the world premiere of "American Sadness," the compelling centerpiece of the company's season at the Abrons Arts Center, October 8-11.
"American Sadness" is set to Gabriel Kahane's haunting, self-titled album, which through its sophisticated, layered songs and music examines the bleaker side of human relationships. Like the subtle complexity of the music, the dance elegantly weaves the rigor and force of classicism with the urgent vitality of urban vernacular dancing. The pointe shoes, sneakers and ballet shoes worn by the various dancers permit the choreography's side-by-side integration of ballet, jazz and modern dance. Created over the course of a year, "American Sadness" is the first use of Kahane's music for a dance. The dance's title is from a line in the Kahane song "North Adams:" As the sky it darkened/Got a dose of american sadness/Rolled up all the windows/And we talked into the blackness. Dane Laffrey, the company's associate artistic director, is designing the sets and costumes, and Japhy Weideman serves as lighting designer.
The 90 minute program also features Brock's charm-filled "Slow Float" set to music by Laura Nyro; "Curious Episode," a witty work set to music by Claude Bolling, and the speed-jetting "Junk and Lies" set to David Yazbek. Dane Laffrey designed the sets and costumes for all three works, and Tyler Micoleau, the lighting.
CBE company members featured in the October engagement are Matthew Branham, Kendrick D. Carter, Joshua Christopher, Ashley Eichbauer, Erica Furst, Ryan Jackson, Yukiko Kashiki, Cassandra Taylor, Connor Killian Weigand, and Micki Weiner.