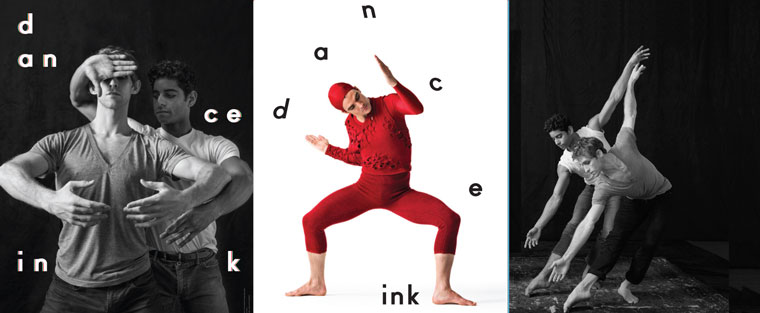 OF DANCE INK SCHEDULED FOR PUBLICATION ON JUNE 6 FEATURES PHOTOGRAPHS OF WORKS BY MERCE CUNNINGHAM AND JUSTIN PECK PERFORMED
Patsy Tarr is not one to fear change, or even to take a 180° turn. So it should be of no surprise that after 20 years of editing and publishing dance and arts magazines and books in print, then in 2011 turning to digital media and pioneering a series of ground-breaking dance apps, Patsy Tarr returns to print for the most recent edition–and revival–of the award-winning Dance Ink, which she had created in 1989. Abbott Miller, who has collaborated with Tarr since 1989, is the publication's editor and designer. Dance Ink's senior writer Nancy Dalva provided the text.
The newly re-launched 60 page Dance Ink, Volume 8, Number 1, comprised of 36 stunning black and white and color photographs by Christian Witkin, is divided into three sections: the first "Everywhere We Go," features a revealing series of black and white images of New York City Ballet principals Amar Ramasar and Adrian Danchig-Waring, who dressed in jeans and tee shirts, riff off of the First Movement of Justin Peck's ballet "Everywhere We Go." Their movement is unabashedly forthright. The duo becomes a trio with the spontaneous inclusion of former Merce Cunningham dancer Silas Reiner, who then has his own solo performance in the book.
In "Changeling," Witkin's unblinking camera follows Reiner as he performs selected and classic moments from Merce Cunningham's 1957 classic solo "Changeling," which Reiner had painstakingly reconstructed especially for the Dance Ink shoot from a collection of images found from an early, undated photo session. The ruby-colored costume and head-tight cap, originally designed by Robert Rauschenberg and reconstructed by Jeffrey Wirsing, suggests the spirit of a changeling, a fairy baby left in place of the original human infant. Cunningham had told his longtime dance partner Carolyn Brown that having been born into a family of lawyers and judges, he had always felt like a changeling.
---
Returning to black and white photography, the book concludes with "Tompkins Square," a series of photos of Reiner joyously improvising along East 11th Street, first, hanging from a basketball ring and then playing statue among the wintery bare branches of a tree in Tompkins Square Park.
According to Tarr, this recent issue of Dance Ink was inspired by her "desire to time travel in dance," as she said. "Travel back to Balanchine and Cunningham style, forward to Justin Peck's choreography and forward to Silas Riener showing us the power of improvisation."
An avid dance lover since childhood, Tarr began her foray into publishing a dance magazine because of what she felt to be the dearth of serious and beautiful publications about the art form she cared so passionately about. Her commitment has strengthened over the decades, as has her belief that dance deserves a publication worthy of the form, and that as such, it should also be a work of art onto itself. Hence, the return to Dance Ink, which immortalizes moments in dance through the singular and loving eye of the camera.
Limited to an edition of 500, Dance Ink, Vol 8 can be purchased online at www.2wice.org They are $38.00 each. Posters of Silas Reiner in "Changeling" and/or Amar Ramsar and Adrian Danchig-Waring are available On Demand by sending order and payment information to DanceInk@dodgechrome.com. The posters are $200 apiece. Wallpaper of either Silas Reiner performing each pose from "Changeling" and/or Amar Ramasar and Adrian Danchig-Waring is also available On Demand at DanceInk@dodgechrome.com. Prices vary according to amount and size.
---
Patsy Tarr
Patsy Tarr is the Founder and President of the 2wice Arts Foundation. She currently serves as the Producer of all 2wice Apps. Past affiliations: Board member of the Nikolais/Louis Foundation, David Gordon Pickup Company, Trisha Brown Dance Company, Dance Theater Workshop, Founder and President Dance Ink Foundation, Cunningham Dance Foundation, The Film Society of Lincoln Center, Vice Chair Chez Bushwick, and Trustee, Fondazione Bogliasco. Currently, Trustee, Central Park Conservancy.
www.2wice.org
Abbott Miller
Abbott Miller is a designer and art director, and a partner in the international design studio Pentagram. He has served as Editor and Art Director of 2wice since its inception, collaborating with leading choreographers and photographers on this unique performing and visual arts publication. Prior to 2wice he served as designer of the award-winning quarterly Dance Ink. A retrospective of his design work for 2wice and Dance Ink was held at the American Institute of Graphic Arts in 2010. He studied at the Cooper Union in New York and later founded the multidisciplinary studio Design/Writing/Research. Abbott has received numerous honors, including medals from the Society for Publication Designers and three nominations for National Magazine Awards. His work and critical writing has appeared in Eye, Print, I.D. and other publications, and he is the co-author of four books, including the classic Design/Writing/ Research: Writing on Graphic Design. A survey of his design work, Abbott Miller: Design and Content, is published by Princeton Architectural Press.
www.pentagram.com