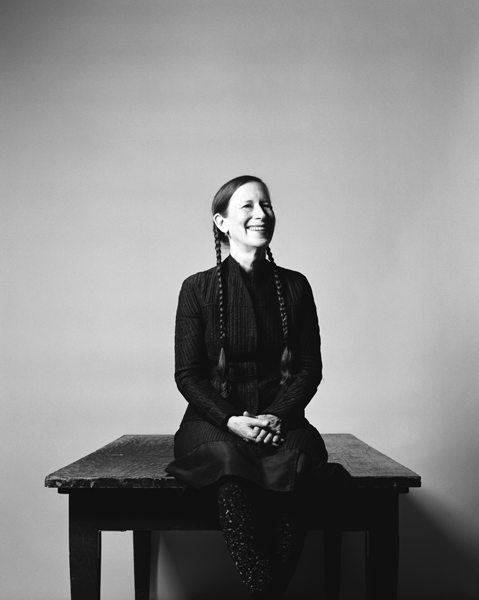 The music of 2009 Grammy Award nominated Meredith Monk will fill two New York museums in the coming months.  First, the Whitney Museum of American Art is hosting Meredith Monk Music at the Whitney on February 1, where Monk and her musicians and vocalists take over the third floor galleries to present four hours of music and film dating back to 1966.  On March 5, the Guggenheim Museum will host the New York premiere of "Ascension Variations," a site-specific version of Monk's most recent work, "Songs of Ascension." Monk's radical transformation of the Guggenheim rotunda and galleries recalls "Juice," the history-making work that the composer, choreographer and multi-disciplinary artist created for the Guggenheim in 1969.
ABOUT THE WHITNEY:  Highlights from forty-three years of Meredith Monk's breakthrough music––ranging from the 1966 original film "16 Millimeter Earrings" to her haunting and witty "Songs of Ascension" (2008)—comprise the four-hour celebration of her work.  The afternoon also includes selections from "Raw Recital," which was premiered at the Whitney in 1970; "Stringsongs," a 2004 commission from the Kronos Quartet, which marks Monk's first string quartet; music from "ATLAS," an opera commissioned by the Houston Grand Opera where it premiered in 1991.  Add to that a series of instrumental pieces including "Gotham Lullaby" (1974), "Tablet" (1976), "Lonely Spirit" (1991) and "Double Fiesta" (1986). Four voices will accompany Rick Moody's reading of his story "Boys" which was originally composed for and heard on The Next Big Thing on NPR.
ABOUT THE GUGGENHEIM: The snail-like spiraling galleries of the Guggenheim Museum will be magically transformed by "Ascension Variations," Monk's adaptation of her most recent work, "Songs of Ascension," to the Guggenheim's unique geometry. The work was inspired by Monk's fascination with the symbols of ascension and circling that are integral to most spiritual practices, both religious and secular. For "Songs of Ascension," Monk composed movement and sound that is constantly shifting and changing, evolving and expanding. The work radiates with Monk's singular wit, humanity and physicality. In addition to voice, Monk's luminous score includes a string quartet (led by Todd Reynolds), winds and percussion. The costumes are by Yoshio Yabara and the lighting design by Tony Giovanetti. "Ascension" was previewed at the Walker Art Center in Minneapolis this past June, followed in October and November by performances in California at the Ann Hamilton Tower at the Oliver Ranch in Sonoma County, Stanford University in Palo Alto and the Redcat in Los Angeles. To celebrate her original work at the Guggenheim, Monk will intersperse bits of "Juice" into the performance. "Ascension Variations" is part of the Guggenheim's The Third Mind Live, a series that features world-renowned practitioners in dance, music, performance art and theater. The series is presented in conjunction with the exhibition The Third Mind: American Artists Contemplate Asia, 1860–1989 on view at the Guggenheim Museum through April 19.