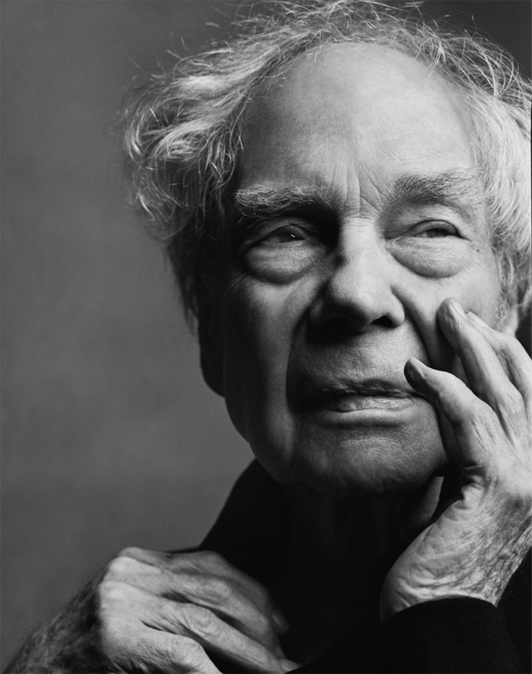 Not one to pause for birthdays (he turns 75 years old in April),  anniversaries (his company concludes its 40th birthday this year), or to keep a running a tab on his accumulating awards (he won three more in the past twelve months.), Merce Cunningham continues to keep his nose to the grindstone.
This year alone Cunningham will have created three new dances, two of which will be presented when the Merce Cunningham Dance Company returns to City Center for two weeks, March 8-20.
The week prior to the Cunningham Company's own New York season,  Baryshnikov Production's White Oak Dance Project will present Cunningham's "Signals," as part of its New York State Theatre season.  (Mikhail Baryshnikov will dance Cunningham's role in the 1970 classic).  The White Oak Project has dedicated its opening night performance to Cunningham in honor of his upcoming birthday.  There will be a post-performance gala dinner dance on the Promenade of the State Theatre, the proceeds from which will benefit the Cunningham Dance Foundation.
Then during the next week at City Center, the Cunningham Company will present the world premiere of "Breakers," which was commissioned by the John F. Kennedy Center for the Performing Arts.  Also scheduled is the New York premiere of "CRWDSPCR" (pronounced "Crowdspacer"), which had been commissioned by and received its first performance at the 60th anniversary American Dance Festival in Durham, NC last summer.  The Company's City Center season will further feature the revival of Cunningham's "Sounddance";  premiered in 1975, "Sounddance" was last seen in New York in 1980.  Additionally, there will be revivals of "Inlets 2," which was premiered in 1983, and "Cargo X," which was premiered in 1989.
"Ocean," Cunningham's third new dance, will receive its world premiere at the Cirque Royal in Brussels as part the Internationale kunstenFestvaldesArts on May 18 through May 21. The title was derived from what was to be Jame's Joyce's last novel of the same name.  John Cage and Merce Cunningham had intended to create "Ocean" for Zurich's Joyce/Cage Festival in 1991.  Conceived originally by Cage and Cunningham, the 90-minute work will be designed for a circular space.  The dance includes two musical scores: over 100 orchestral musicians who are situated in a circle above and around the audience will perform a composition created by Andrew Culver; there will also be an electronic score composed and performed by David Tudor. The design and lighting will be by Marsha Skinner. "Ocean" will be next performed as part of the Holland Festival in Amsterdam, June 27-June 30.  Following its Brussels season, and prior to its Holland Festival engagement, the Company is scheduled to perform repertory in Germany, Portugal and Denmark.  (Exact dates to be announced.)
On October 12 Cunningham was presented with the Creator Award, as part of the  New York Dance and Performance Awards, aka a "Bessie," by Dance Theater Workshop, for "Enter," which received its U.S. premiere during the Company's 1993 City Center season.  Twelve days later, Cunningham received an award for Best Performances by a Visiting Artist as part of the 1993 London Dance and Performance Awards. He was honored for the three Event performances given by his company at Queen Elizabeth Hall last November.  On December 13 Cunningham received a Tiffany Award from the International Society of Performing Arts Administrators.
Highlights of the Company's winter include a three-week tour of Japan that begins on January 7 with six performances at the Shinjuku Bunka Center in Tokyo, followed by performances in Takamatsu, Osaka, and Kyoto.
Following on the heels of the Japanese tour will be a silent auction at Cartier that will feature dozens of birthday cards created by visual, dance, music artists, writers, poets and politicians in honor of Cunningham's 75th birthday.
Just prior to its City Center season, the Company will spend three days in Madison, WI, where it will perform on February 26. Then following its New York engagement, from April 25th-May 6,  the Film Society of Lincoln Center will host
"Cunningham on Camera."  Taking place at the Walter Reade Theatre, the week-long  retrospective, which is part of the Society's "Capturing Choreography: Masters of Dance & Film" series, will feature films and videos from the Cunningham Company's archives.