BLANCA LI'S "ROBOT" MAKES U.S. DEBUT AT BAM HOWARD GILMAN OPERA HOUSE, JUNE 9-14
The music, dance, visual arts extravaganza features seven dancing robots along with eight human dancers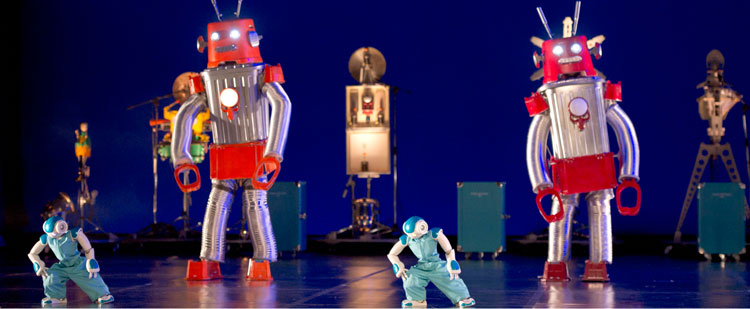 If teaching a human to dance isn't difficult enough, try a robot. Then try seven of them, each with a distinct personality and temperament, unique learning curve and different coordination issues. But as performers in Blanca Li's "ROBOT," all seven share a single passion: the determination to dance.
Meet Pierre, Jean, Alex, Lou, Dominique, Sacha and Ange, who, along with their spectacular eight human dancers counterparts, are the stars of Blanca Li's hit show, "ROBOT," which arrives from Paris to take over BAM's Howard Gilman Opera House stage, June 9-14, where all 15 performers will make their American debuts.

The brain child of choreographer/filmmaker/dancer/director Blanca Li whose credits include creating music videos for Daft Punk, fashion videos for Beyoncé, dances for films by Pedro Almodovar, runway shows for Jean-Paul Gaultier, commissions from the Paris Opera Ballet and Metropolitan Opera in New York, countless television videos, "ROBOT" is a magical, hope-filled world where gender is malleable, humans and robots fall in and out of love, learn to walk and then to sing and dance, to care for each other, and poke fun at life's topsy turvy-ness.
The dancing in "ROBOT" is accompanied by a 10-member mechanical orchestra whose instruments double as witty and riveting art installations created by the award-winning Japanese designer team Maywa Denki. Influenced by kinetic art and techno-pop, Maywa Denki's back-to-the-future musical objects, created from resin, aluminum and feathers, are complex electro-mechanical devices, which play music only when activated by humans. Sorry, robots.
Embedded in the funny, exuberant and deeply touching 90-minute show are profound questions about what it is to be human; to be a robot; what our future holds for us as we grow more and more dependent on inanimate objects to run our lives. Will there be a time when man and robot become interchangeable?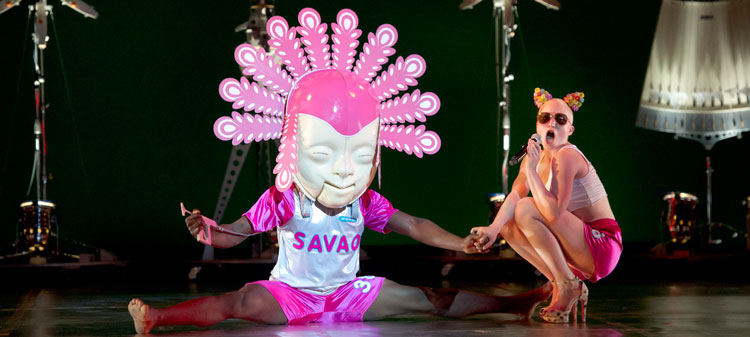 Given its sweeping imagination, it's no wonder that "ROBOT" has been playing to sold-out houses in more than 60 cities throughout France, Belgium, Spain, Portugal and Italy since its world premiere at the Montpellier Dance Festival in Montpellier, France in 2013. It has also been the subject of two French national telecasts, the film of one had been selected for showing at 2015 Dance Film Festival at the Walter Reade Theater at Lincoln Center.