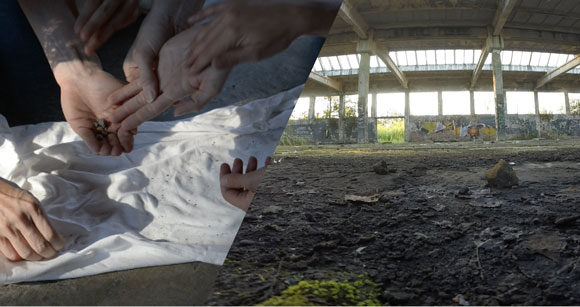 The world premiere of choreographer Jonah Bokaer's "Four Women," a dance/film installation inspired by four women who were hanged for their participation in an attempted rebellion in Auschwitz on October 7, 1944, opens at the Center for Jewish History on October 7. The film is part of Bokaer's exhibition entitled "October 7, 1944," which takes place at Yeshiva University Museum's Popper Gallery at CJH.
Using four female dancers, Bokaer's 30 minute work is a distillation and abstraction of the heroic but little known story of the four women—Ala Gertner, Róża Robota, Regina Szafirsztajn, Estera Wajcblum–who secreted ammunition into the death camp to aide a carefully planned, but ultimately unsuccessful uprising which included the explosion of one of the camp's crematoria. Rather than text, "Four Women" is dependent on the language of the body to honor and explore subject matter in which human bravery and brutality defies spoken language. The work is choreographed and directed by Jonah Bokaer, with editing by Nir Arieli.
Bokaer's research for the project included spending five days at Auschwitz in August during which time he met with and received important guidance in his work from Dr. Igor Bartosik, Specialist & Authority on the Sonderkommando; Szymon Kowalski, Deputy Head of the Archive; Elżbieta Cajzer, Head of the Collections Department and Paweł Sawicki, who arranged the 5-day research.
Curated and commissioned by the American Jewish Historical Society and curated by its Executive Director, Rachel Lithgow, "October 7, 1944" draws on the riches of American Jewish Historical Society and YIVO Institute for Jewish Research archives. It will feature a series of hand drawn graphite drawings by Bokaer and a deconstructed violin (Bach's "Chaconne," a section of Bach's Violin Partita in D minor, recorded by Henryk Szeryng will be gently playing in the background). There will also be selected archival material from Auschwitz and the National Jewish Welfare Board will be featured as part of the exhibit. The exhibit additionally includes "Study for Occupant," a film of a work by Bokaer from 2012, featuring the same cast of four women.