WORLD PREMIERE OF DOUGLAS DUNN'S 'AUBADE' 


AT PEAK PERFORMANCES, JANUARY 24-FEBRUARY 1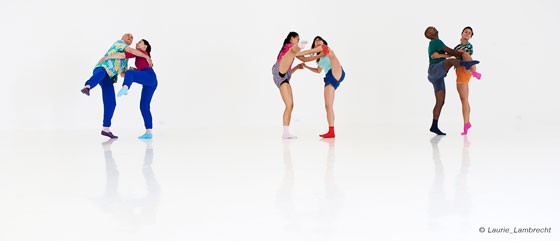 Traditionally regarded as an abstract minimalist, 71 year old choreographer Douglas Dunn treads into unexpected territory with the world premiere of "Aubade," at the Alexander Kasser Theater, January 24-February 1. The dance was commissioned by Peak Performances.
Featuring pre-recorded and real-time video, lighting and costumes by Dunn's frequent collaborator, the avant-garde filmmaker Charles Atlas, poetry by Anne Waldman, and an original score by Steve Taylor, the hour-long work marks one of Dunn's most complex dances to date. Taylor and his three musicians will share the Kasser stage with Dunn's own nine-member company, which includes Dunn himself, as well as six dance students from Montclair State University, whom Dunn is incorporating into the work.
"Aubade" is traditionally a song of morning; of awakening to the day with a quiet sense of the inexorableness of death. The dance, which could be considered abstractly autobiographical, is also an homage to, and exploration of the more vivid and rich perceptions we develop as we age and begin to confront our own mortality.
The dance comments on the life of an artist, and the stages of consciousness that evolve as an artist ages. Central to the work is the role of Christopher Williams who plays a trickster- an unbridled sensualist whose imagination and animal energy is essential to the creation of art.