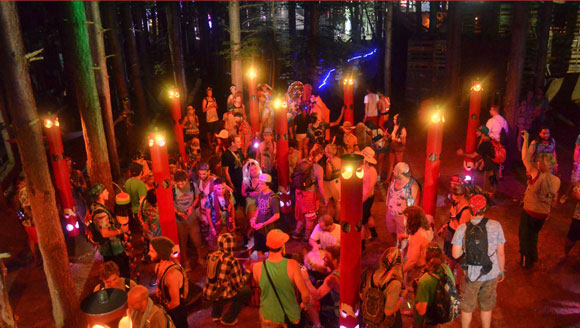 How can one man have so many ideas? Consider "REACH: NY" on New York's 34th Street and Herald Square subway station, where waiting riders create music on the express platforms; a building in Washington, D.C. that dances with light and sings with music; a skyway at the Miami International Airport where travellers are enticed to make music and light as they are transported from terminal to terminal; a house in Kona, HI that doubles as a musical instrument; or an electric Porsche 911 Targa EV that can travel 100 miles on a gallon of gas. Meet Christopher Janney, whose imagination travels intergalactically as easily as it skids around neighborhood corners for inspiration..
Christopher Janney's "Sonic Forest," which has travelled the world for two decades, returns to New York City on September 5, where it will take up residence in LaGuardia Park until September 11. A collection of sound and light-making "electronic trees," which stands at the ready for passer-byes to compose their own music or create communal symphonies at whim, is the first of a series of public events that Janney has up his sleeve for New York City and Washington, D.C. in the next three months.
The other events include the inauguration of "Touch My Building: Dance Place" in Washington, D.C. on September 13; and a concert with major jazz artists and dancers on November 25 at the Gramercy Theatre in New York City.
SONIC FOREST, Opens September 5th at 4 pm, closes September 11 at 11pm; open 8am-11pm daily; LaGuardia Park (between Bleecker and Houston Streets on LaGuardia Place), New York.
"Sonic Forest," which has been recently presented in Zaragona, Spain, at the Glastonbury Festival in Somerset, England, the Firefly Festival in Dover, DE, the Electric Forest Festival in Rothbury, MI, the Coachella Festival in Indio, CA and the Bonnaroo Festival in Manchester, TN, will unite children of all ages and adults, enticing them to individually or communally compose music and create their own lighting effects, with the results brightening and enlivening the air for pedestrians strolling along LaGuardia Place.
ARTISTS AND THE CITY, September 8, 6pm-8pm; 536 LaGuardia Pl, New York. This event is open to the public; tickets are first come, first served.
A panel of noted composers, choreographers and sculptors who have used the city as inspiration will discuss questions about how their work relates to the city's unique architecture and how the architecture of the specific site in which they work affects their work process. The panel (to be announced) will be moderated by Janney.
TOUCH MY BUILDING: DANCE PLACE, Permanent installation opening September 13; 3225 8th Street, NE Washington, D.C.
The multi-talented Christopher Janney, a native of Washington, D.C., has a shared vision with Dance Place's founding director Carla Perlo: to engage a diverse public in the creative exhilaration of the arts. His personal commitment to Perlo's mission inspired Janney, the artist, to create a colored glass exterior for the newly renovated building. As part of the colored façade, Janney, the composer, created an interactive sound installation that converts Dance Place into a building alive with the sound of music created by public. By touching a series of designed panels, passer-byes, entering and exiting dance students, audience members, and teachers make "a sound-score of melodic and environmental sounds," creating a singing building.
LIVE PERFORMANCE, November 25, 8pm, Gramercy Theatre, 127 East 23rd Street, New York.
Janney's gifts will be front and center again in a live performance that he is co-producing with the pioneering jazz/world music/rap producer and bass player Bill Laswell. Janney, who conducts and works with a visual synthesizer, will be joined by Laswell, percussionist Trilok Gurtu, and vocalists Nona Hendryx, Lynn Mabry, and Dave Revels. The evening also features a performance of Janney's pioneering "HeartBeat," a solo choreographed by Sara Rudner. Rudner was the original dancer, followed by Mikhail Baryshnikov, who performed the work for two years. At the Gramercy, it will be performed by Sunny Hitt. She will be accompanied by the sound of her heartbeat, courtesy of a custom wireless electronic heartbeat monitor, with layered sound spontaneously created by Janney, Laswell, Gurtu, Hendryx, Mabry, and Revels.