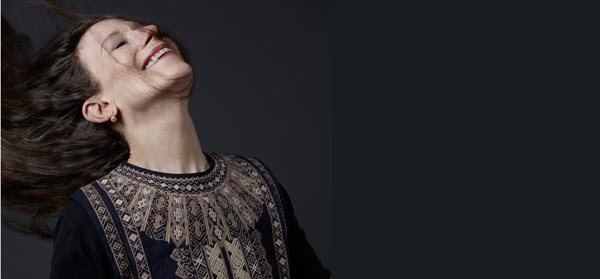 A PRELUDE TO 50 YEARS
MEREDITH MONK ANTICIPATES HER 50th ANNIVERSARY,
 A SPRING FILLED WITH MAJOR ANNOUNCEMENTS,
 PERFORMANCES IN AND OUT OF NEW YORK, NEW
RECORDINGS, TALKS AND MORE
Five decades later and still blazing new trails, Meredith Monk began preparation for her Fiftieth Year celebration with the January 29 announcement of her appointment as the 2014/15 Richard and Barbara Debs Composer's Chair at Carnegie Hall. Her spring calendar, a prelude to her 50th anniversary events, is crammed with New York, national and international performances, record and CD releases, workshops and residencies designed to showcase Monk's groundbreaking work past and present.
THE DEBS COMPOSER'S CHAIR: The Debs Chair residency includes five concerts that take place in Carnegie Hall's three venues and one at Carnegie's partner, (Le) Poisson Rouge. Each celebrates the breadth of Monk's music in a unique way. At Carnegie itself, Monk's work will be featured within programs performed by the American Composers Orchestra on November 21, 2014, the Ensemble ACJW on February 16, and the Saint Louis Symphony on March 20, 2015. The five-performance celebration culminates with two all-Monk programs: the first, on March 22, entitled "Meredith Monk and Friends," will be performed by musicians and vocalists from the jazz, new music, classical, and electronic/pop worlds,
including Jessye Norman, John Zorn, DJ Spooky, Missy Mazzoli, Lukas Ligeti, Don Byron, Nadia Sarota, Theo Bleckmann, and Todd Reynolds. The May 2 concert, "Meredith Monk & Vocal Ensemble," features the composer performing her works with over a dozen of her most dazzling musicians.
RECORD AND CD RELEASES: "Radio Songs," a select compilation of three of Monk's previously unreleased compositions from her 1976 classic, "Quarry," will be available on a vinyl disc produced by White Columns on February 8th. The fourth song on the disc, "Gotham Blues," was included in Ping Chong's "Fear and Loathing in Gotham." Ursula Oppens and Bruce Brubaker perform Meredith Monk's music on "Piano Songs," a CD scheduled for release on the ECM label in May 2014.
IN NEW YORK CITY: On February 12, she will be interviewed by New Yorker writer and author
Adam Gopnick as part of the newly created "Conversations with Chevaliers" series at the 92nd Street Y; the event is presented in collaboration with Cultural Services of the French Embassy and Recanati-Kaplan Foundation. Monk has recently been installed as an Officer of Order of the Arts and Letters by the French Government. Musica Sacra will perform three excerpts from Monk's 1991 opera, "ATLAS," as well "Hocket," the ever-popular duet from her "Facing North" and "Nightfall, " commissioned in 1995 by Musica Sacra. Taking place at Alice Tully Hall, the March 31 concert features Meredith Monk and Katie Geissinger. The Musica Sacra performance will be preceded by a conversation with Musica Sacra conductor Kent Tritle and composer Jocelyn Hagen at The Library for the Performing Arts at Lincoln Center on March 26.
US PERFORMANCES AND BEYOND: Monk will be heard in a solo concert at the Cleveland Institute of Music on February 21, followed by Meredith Monk & Vocal Ensemble's performance of her most recent masterpiece, "On Behalf of Nature," at the Krannert Center at the University of Illinois at Urbana–Champaign on March 6. She will perform with Katie Geissinger at the Los Angeles County Museum of Art on April 11, in conjunction with Helen Pashgian's exhibition "Light Invisible." The LACMA concert is followed by a solo performance by Monk at the 356 Mission Gallery in Los Angeles on April 13. On May 15, Monk performs with Geissinger as part of the Festival de Musique Actuelle de Victoriaville in Quebec. Monk and Geissinger travel to France for a series of performances with the French choir Mikrokosmos comprised of 12 young professional singers with whom Monk worked last in her loft in New York City. The tour includes dates In Chateauroux (May 23); Orléans (May 27); Tours (May 29) and Abbaye de Noirlac (June 1).
Please stay tuned for the May announcement of Monk's 50th anniversary plans.