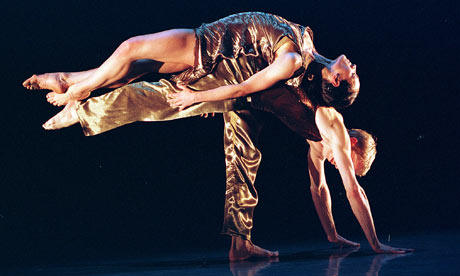 Richard Alston loves music.  Of all kinds.  This unabashed and enduring romance will be shared with New York audiences when the London-based Richard Alston Dance Company returns to The Joyce Theater, February 14–19, with a program of New York premieres inspired by Monteverdi, Chopin and Gypsy Balkan music.
Monteverdi's madrigals and sinfonias form the heart of Alston's sensual  "Fever."  The 2001 dance, a series of duets and larger group sections, aglow in Charles Balfour's golden light, radiate with the passion and tenderness of the lush score.  The dance is set to a recording by the Concerto Italiano, conducted by Rinaldo Alessandrini.
The warm, melodic spirit of Chopin's Nocturnes and Etudes inspired  "Such Longing," Alston's homage to Jerome Robbins's classic "Dances at a Gathering."  The dance, a suite of loving solos and duets, evokes a sense of romantic yearning.  The music will be played live by pianist Jason Ridgway.
Alston throws a musical curve in the program with "Gypsy Mixture," a fast-paced, fiercely rhythmic dance set to music from the CD "Electric Gypsyland."  The multi-layered choreography echoes and reinforces the exhilarating spirit of the Balkan Gypsy music, remixed by DJs from around the world.  The disparate sounds –– Macedonian and Chilean brass bands plus a blend of clarinet and electric organ –– add new mystery to the compelling mix.