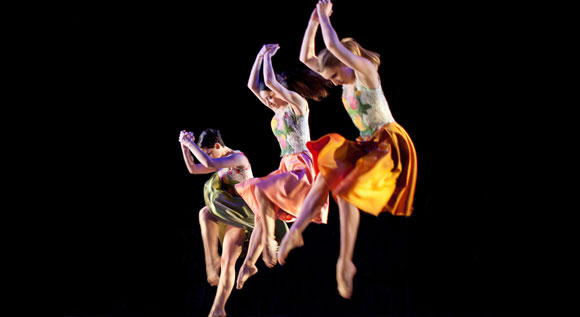 RICHARD ALSTON DANCE COMPANY RETURNS TO PEAK PERFORMANCES, OCTOBER 30-NOVEMBER 2, WITH THREE NEW DANCES–'REJOICE IN THE LAMB,' 'HÖLDERLIN FRAGMENTS' AND 'ILLUMINATIONS'–ALL PERFORMED TO BENJAMIN BRITTEN, PLUS 'UNFINISHED BUSINESS'
LIVE MUSIC PERFORMED BY TENOR NICHOLAS PHAN, PIANIST JASON RIDGWAY, THE AMERICAN CONTEMPORARY MUSIC ENSEMBLE AND MEMBERS OF THE MONTCLAIR STATE UNIVERSITY CHORUS
Celebrated world-wide for its singular musicality, the London-based Richard Alston Dance Company, a regular visitor to our shores, returns to Peak Performances, October 30-November 2, with a triple bill of new dances, plus the duet from Richard Alston's acclaimed 2012 hit, "Unfinished Business." The music, mostly Britten, played live for all four dances, features special guest tenor Nicholas Phan, pianist Jason Ridgway, the American Contemporary Music Ensemble, as well as members of the Montclair State University Chorus directed by Dr. Heather J. Buchanan.
The programs, which are the same for each performance, open with Alston's 2014 "Rejoice in the Lamb," whose fleet-footed choreography infused with alternations of wit and darkness, is set to Britten's score of the same name. The composer wrote the score in the 1930's after being introduced to the witty, bleak poetry of Christopher Smart, who had been confined to a mental institution for over five years. The ten dancers, each radiant with the soaring spirit of the music, are accompanied by the voices of Vocal Accord from the MSU Chorus.
A major success at the 2013 Edinburgh Festival, "Hölderlin Fragments," a plotless work for six dancers, is performed to Britten's song cycle "Sechs Hölderlin-Fragmente." The dance embodies the innocent ebullience and beauty of the poetry of Friedrich Hölderlin which had originally inspired the music. Nicholas Phan is the tenor, and Jason Ridgway, the pianist for the 12-minute work.
"Illuminations" is set to Britten's "Les Illuminations," which will be played live by the American Contemporary Music Ensemble and sung by Nicholas Phan. With its fluid energy and optimistic sense of romance, the 1994 work remains one of Alston's great classics.
Rounding out the company's programs is the duet from Alston's "Unfinished Business," which received standing ovations and great critical acclaim for its unique emotional and physical symmetry when it was performed at Peak Performances in 2012. It is set to the adagio of Mozart's piano sonata, K533.